Day by day, the latest technology is introduced and business owners want to incorporate into their business sites. Whether it is intuitive chatbots or CSS sprites, the services of a web developer are increasing. At this very moment, there are nearly 1.7 billion websites online and with every second, a new website is announced to the world wide web. Finding venues to maximize earning potential for web developers is possible by joining partner programs.
These affiliate partner programs help you to give your clients better services by recommending products they need and are the best in the industry. There are literary dozens of such partner programs that you can join. However, as a web developer, fine tuning your affiliate programs to suit your clientele will help you develop your business successfully in the long run.
What is an Affiliate Partner Program?
Partner programs are based on referrals, where you refer your client to buy certain products or services. As a web developer, you are often asked for hosting advice. For example,  which themes are best or where to get plugins that will add advanced features to the website or an eCommerce store. You can bank on your knowledge to recommend products you know are good, while simultaneously earning commissions on the sale.
Such types of affiliate programs are a win win situation for both parties. Stats show that 81% of brands depend on affiliates to increase their sales conversions. By providing this service, you are in fact giving your clients more value-added services. Therefore, if the recommendations you give are sound, your clients will trust you and especially praise your web development skill.
Let's look at some of the best high paying affiliate partner programs from brands you know and trust.
High Paying Partner Programs for Web Developers
Software Partner Programs
WordPress
Did you know that every month 136.2 million new blogs are setup on WordPress.com? The free hosted version has an affiliate program that is easy to sign up for. In fact, the partner programs give you thrice as much benefit as it also allows you to earn for WooCommerce or Jetpack plugins.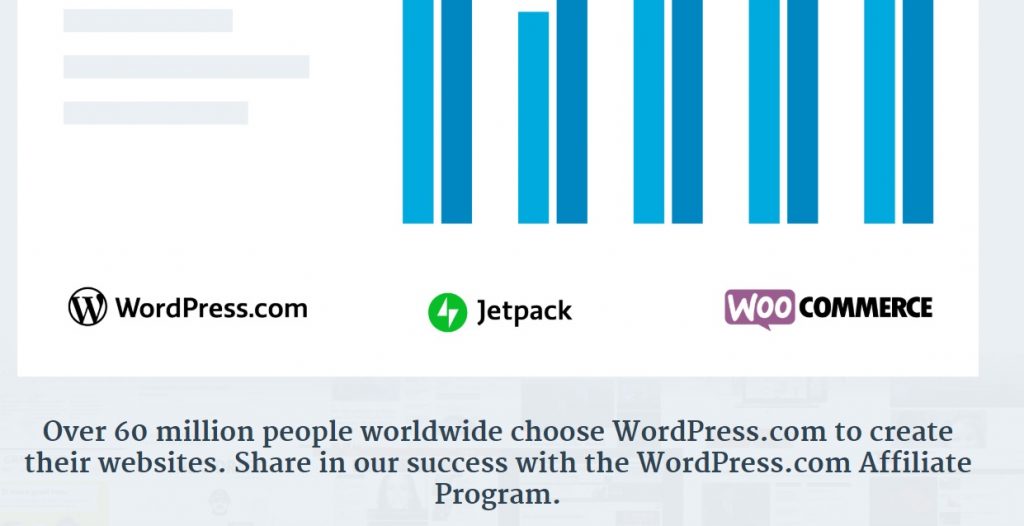 At a Glance
Earning potential up to $300 per referral a year for every successful sale
Flat 20% commission if client upgrades from Basic to Premium plans
No Sign-Up Fees
Pay out via PayPal only
No cap on referrals
Join the WordPress 3 in 1 Programs.
Shopify
A very popular eCommerce program that comes with hosting is Shopify. Now, what makes Shopify great is that is it is for non-tech business owners. It is perfect for small to medium size businesses and offers some really cool features out of the box. The affiliate partner programs are easy to join. You can also make money by creating themes and plugins for the program.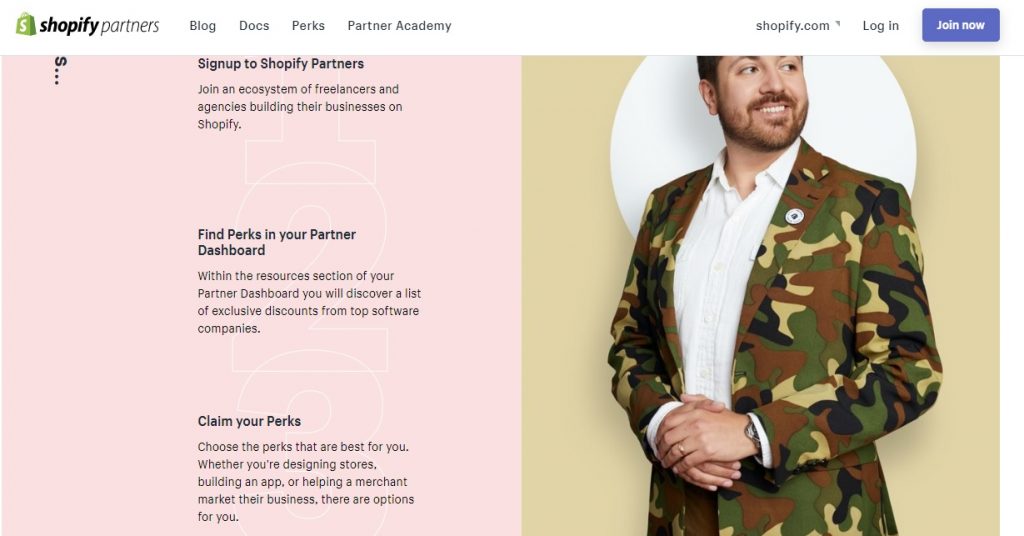 At a Glance
200% commission on All plans except Enterprise where commission is 100%
Minimum of $58 per sale for Basic plans and $2000 for Plus
30-day cookie
No minimum sale amount for withdrawal
Payments via PayPal
Dedicated Affiliate Manager
Join up and Start – Shopify Affiliate Program.
BigCommerce
Another great eCommerce program that is perfect for medium to large businesses is BigCommerce. You get basic functionality out of the box, but there are tons of plugins to allow the store to get advanced features. The partner program is perfect for developers whose main focus is designing and developing BigCommerce stores.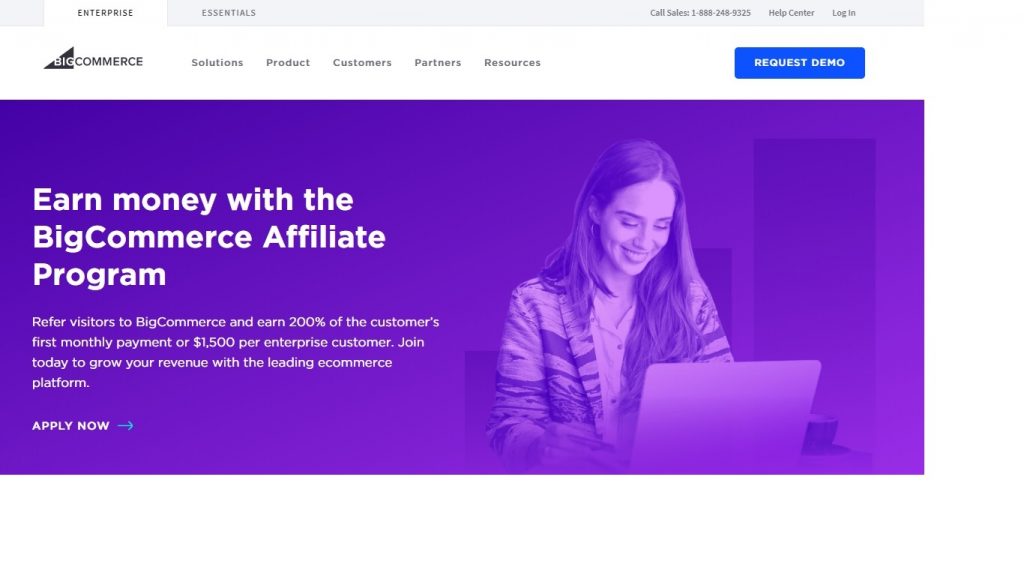 At a Glance
200% bounty per referral
$1500 per Enterprise customer
No caps on commission
90-days cookie
Dedicated Account Manager
No Sign-up fees
Get your share of the $1.5 million commission with BigCommerce Affiliate Program.
Hosting Affiliate Programs
Aspiration Hosting
Around since 2008, the company is dedicated to offering clients the best service in performance for PHP based programs. You can host Magento, WordPress, WooCommerce, Node.js, X-cart, OpenCart, Drupal and Joomla sites here. Aspiration Hosting has very affordable cloud hosting plans and dedicated cloud servers with SSD drives and additional bundles like LiteSpeed / LiteMage cache, SSL certificates. Also, Aspiration Hosting cares about  customer care, so of course they have experts on the team to resolve problems within minutes. The Partner Program for web developers and web development companies was recently introduced in which you can get lifetime commissions on referrals.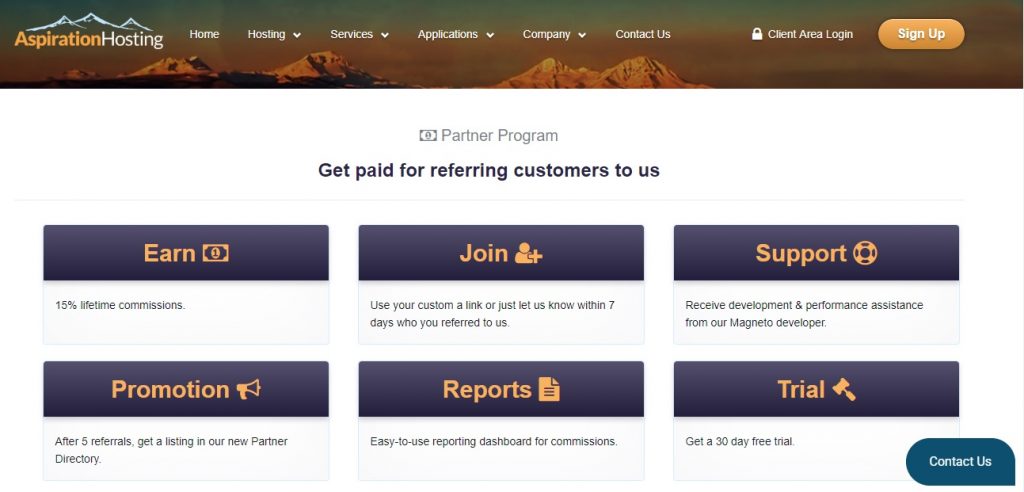 At a Glance
15% Lifetime revenue share
Custom Link
No expiration of cookie
After 5 referrals you get included in the Partner Directory
Pay out cap of $50 via PayPal or credited to account
Start referring with Aspiration Hosting Partner Program
Themes & Plugin Affiliate Programs
Template Monster
Did you know that just in the month of September 2018, people switched themes 2 million times? Template Monster is a big shot in the themes and plugins market, it offers both free and paid products. The site caters to all types of programs like Magento, WooCommerce, Joomla, WordPress, Shopify, BigCommerce, PrestaShop and more. The affiliate program, too is just as good as their products.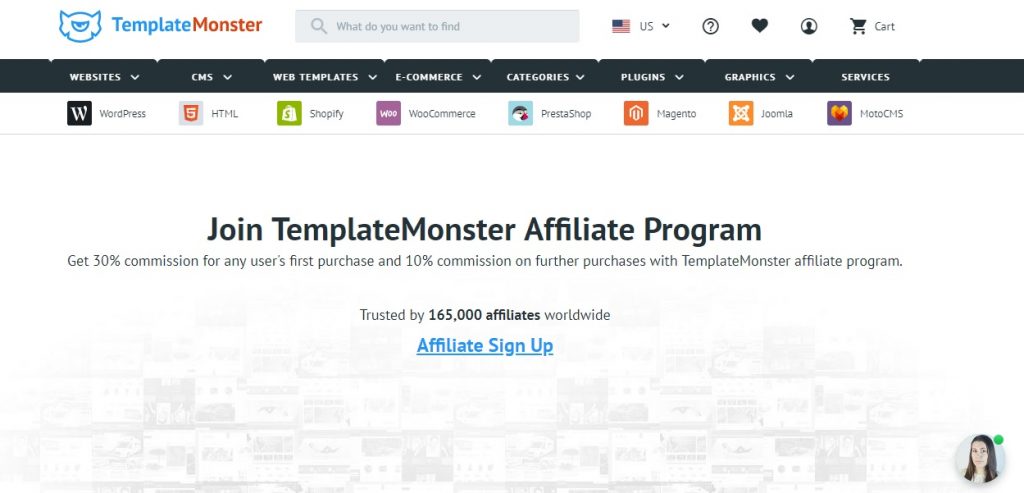 At a Glance
30% commission on first purchases
10% on subsequent sale
5% life time commission on every person you turn into affiliates
Supports various payment modes – PayPal, Skrill, SWIFT, Payoneers, Webmoney and ACH
365 days cookie
To reach people globally, the site is translated into Spanish, German, French, Italian, Russian, Portuguese, Turkish and Polish.
Need Themes? Join TemplateMonster Affiliate Program.
Theme Isle
If you have heard of Neve or Hestia themes, then you have seen the creativity from Theme Isle. Some of the best themes that websites use and recommend come from this site. With just 20+ themes and plugins, you can still find both paid and free versions created just for the WordPress program. It's affiliate program is also top notch.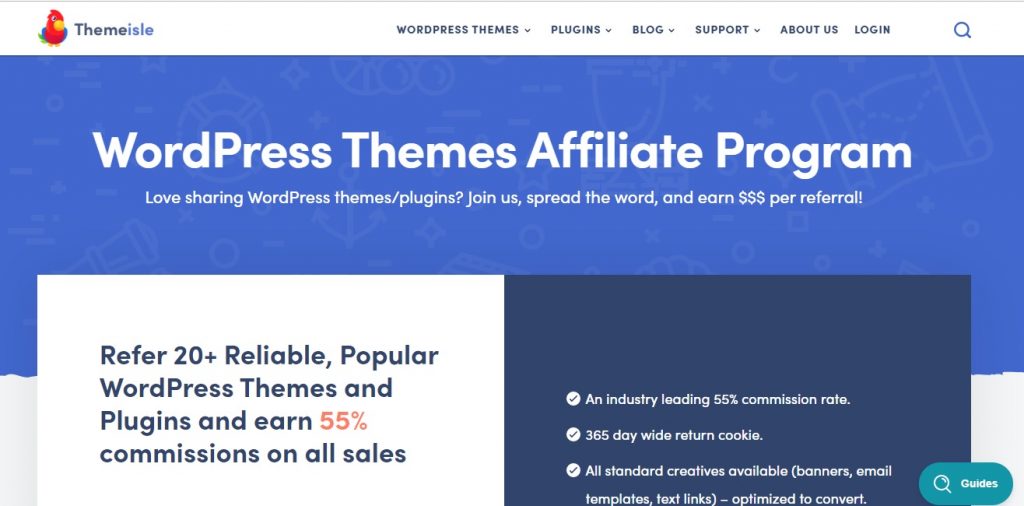 At a Glance
Earn 55% commission on every sale
365 days cookie
Affiliate management team
$100 minimum for withdrawals
Potential to Earn more via Performance Incentives
Partnership Program for WordPress Themes from ThemeIsle – Join Now!
MyThemeShop
Another site that caters to the millions of WordPress users is MyThemeShop. You can find more than 150 elegant premium themes and unique plugins for all types of businesses. The affiliate program is breaking the norms by letting people earn more than possible.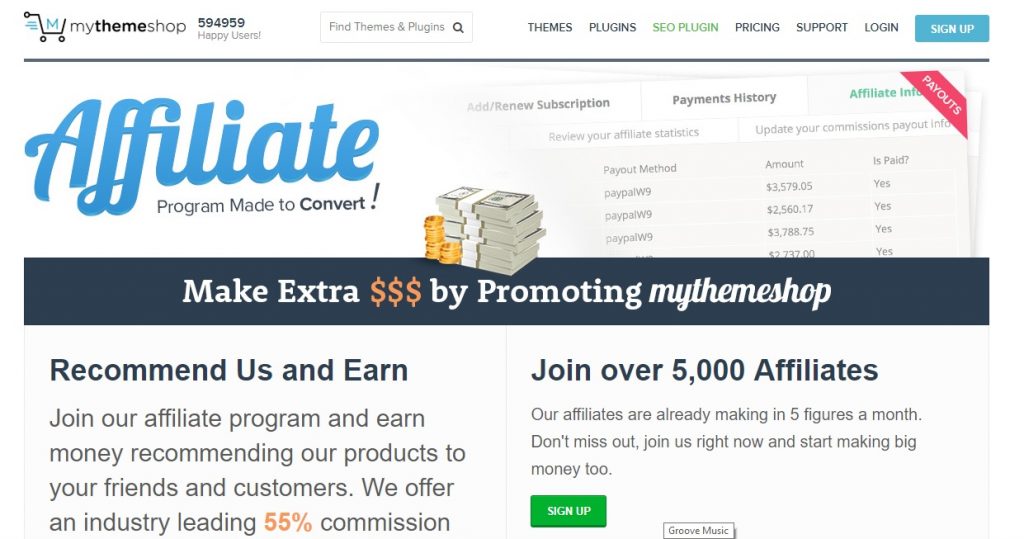 At a Glance
Earn 55% industry leading commission
10% commission via the two-tier system
60-days cookie
Payments are monthly with no minimum pay out
MyThemeShop Partnership Program to Earn Big Bucks.
Joomla Shine
There are very few sites that offer affiliate programs for Joomla developers. Joomla Shine however is unique. It is a Joomla dedicated site with great looking templates and extensions. Also, like many others, the affiliate program has some amazing benefits.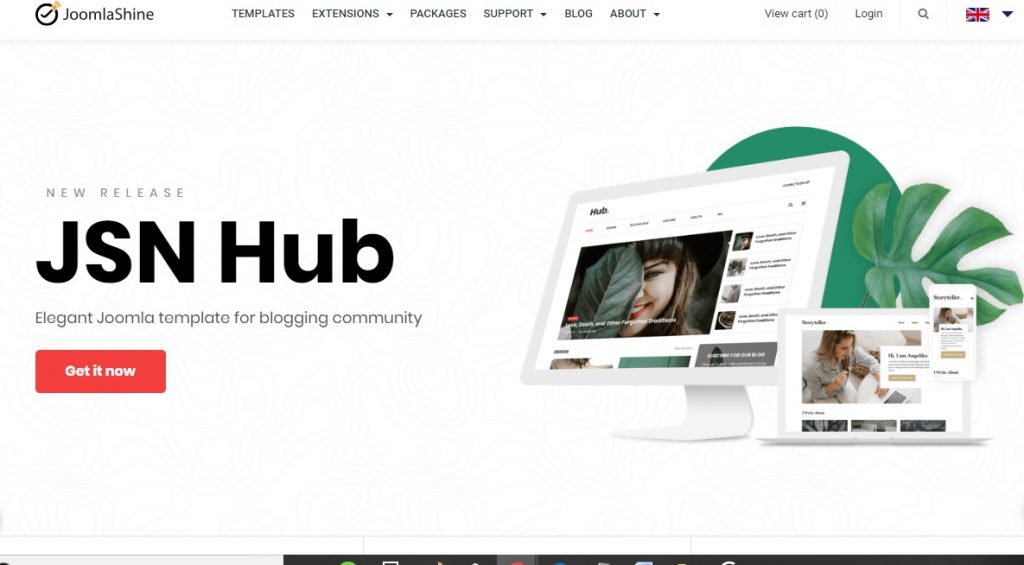 At a Glance
Earn from 35% to 50% in commission
You earn per sale
$25 minimum pay out
Payments are first week of every month
Joomla First – Join the JoomlaShine Partnership Program.
Envato
Love Theme Forest? Then you are already familiar with Envato, the one stop site that offers everything. The site is a marketplace for themes, plugins and other goodies that you never even thought of buying. It caters to a variety of programs like Magento, WooCommerce, Shopify, BigCommerce, WordPress, Joomla, Drupal and more. The affiliate program is super easy to join and earn, as well.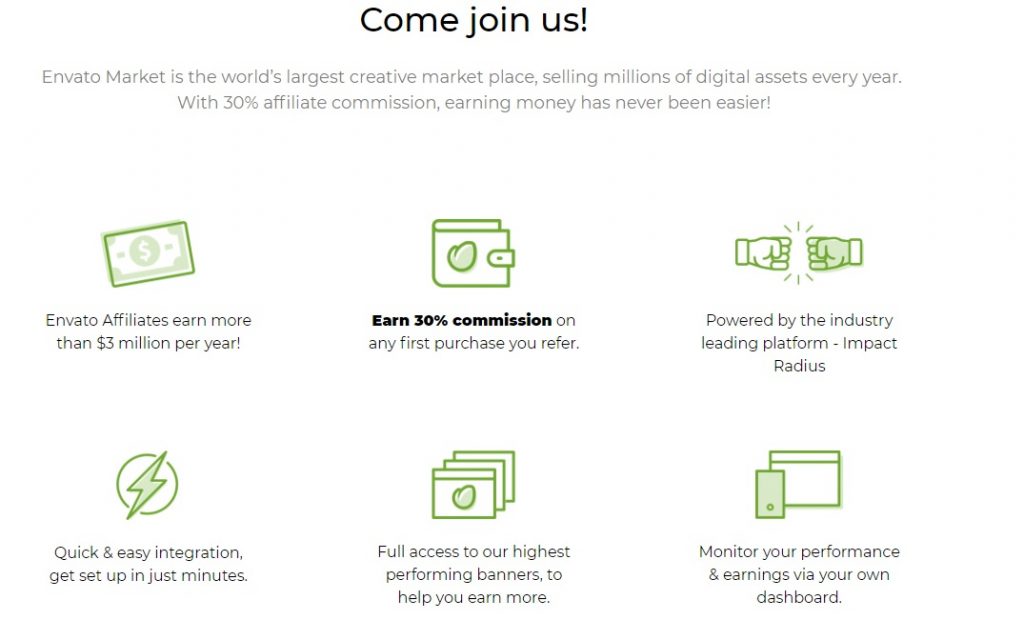 At a Glance
Affiliates can earn more than $3 million per year
30% commission on first purchase on Envato Market and Envato Studio
Earn up to $120 with Envato Elements
90-day cookie for Market
60-day cookie for Elements
Get started with Envato Market Affiliate Program or Envato Elements Affiliate Program.
Elegant Themes
Nearly 600,000 people are using the Divi theme. As the number keeps on growing,  people are finding how out more and more benefits of Divi and about the other products by Elegant Themes. This is the perfect time for web developers to join the affiliate program and share in the profits.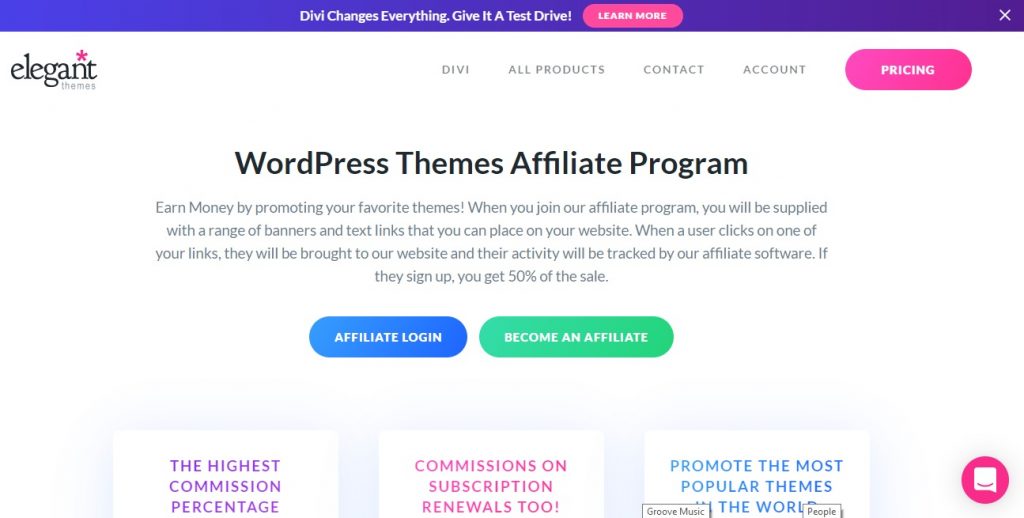 At a Glance
50% commission on each sale
Commissions on renewals as well
Minimum pay out is $58
Automatic payments via PayPal
180-days cookie
WordPress themes bonanza with Elegant Themes WordPress Partnership Program.
Mojo Marketplace
Mojo is a big name in the WordPress world. You might know them as Mojo Themes, the site has changed names and is now gearing towards giving more to its customers than even before. Themes, plugins and other services are plentiful to choose from. As if that wasn't enough, the affiliate program is just as seductive.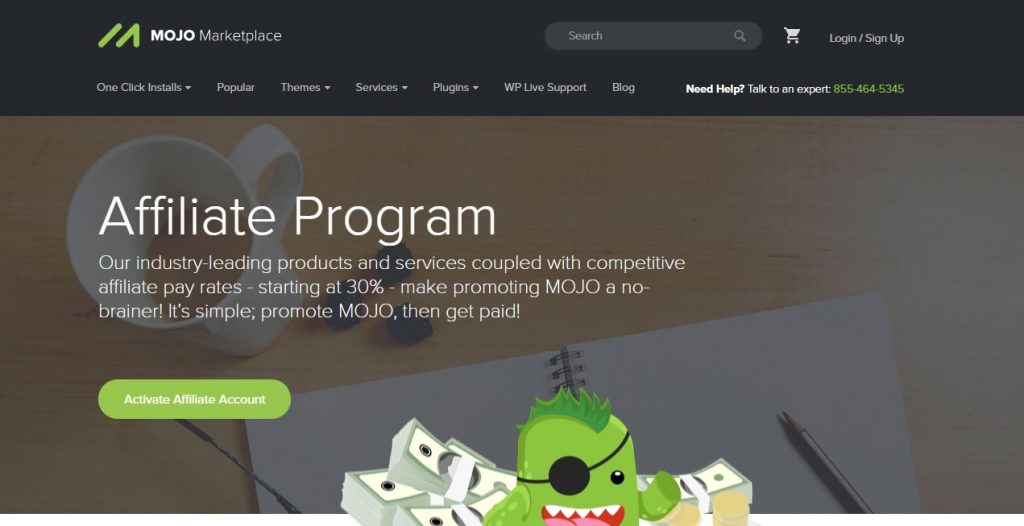 At a Glance
Starting at 30% commission
Minimum pay out $50
Payment every 15th of the next month
Withdrawal via PayPal
30-days cookie
Win big with the Affiliate Program by MoJo Marketplace.
Partner Programs for Plugins
Barn 2 Media
The UK based company has just a few WordPress and WooCommerce plugins to sell. However they are powerful and very useful in the eCommerce environment. Moreover, their affiliate program is also not bad, compared to others.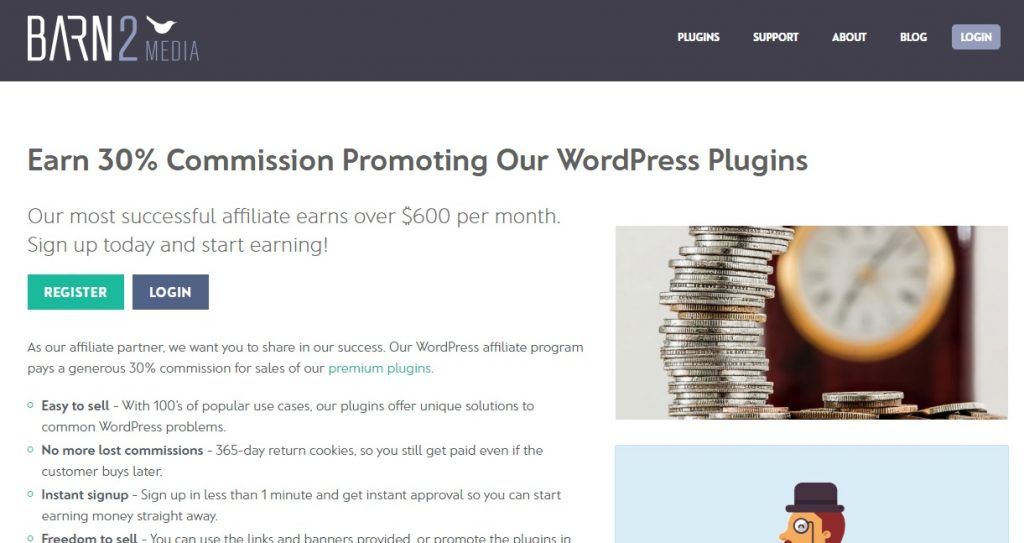 At a Glance
30% commission on first year purchase
No minimum pay out
Monthly payments via PayPal
365 days cookie
It's raining commissions with Barn 2 Media Programs for Affiliates.
Member Press
If you want to curb your content, then member press is the best bouncer you will ever need for your members only club. The WordPress plugin hides your content and only allows subscribers to enter. Also, they have a neat partner program as well for web developers.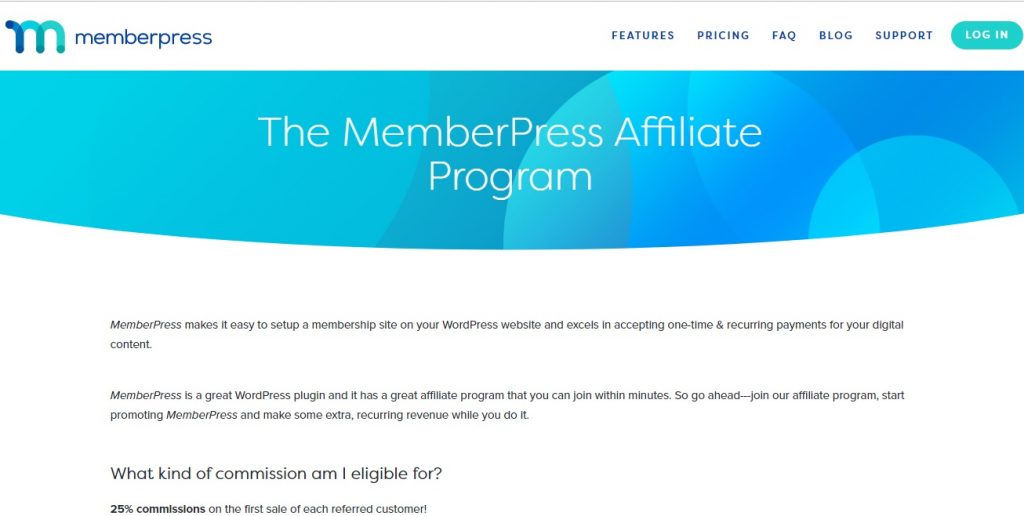 At a Glance
30% commission for first sale
10% commission if you don't use Member Press
60-days cookie
Payments on the 1st of each Month
Automatic PayPal pay outs
No minimum cap on pay out
Start your exclusive VIP Lounge with MemberPress Affiliate Program.
WP Forms
WP Forms is one of the most innovative and useful contact forms plugin ever. It already has more than 2 million users. You can create forms and surveys easily using the drag and drop form builder for WordPress. Joining the affiliate program is smart as the plugin is.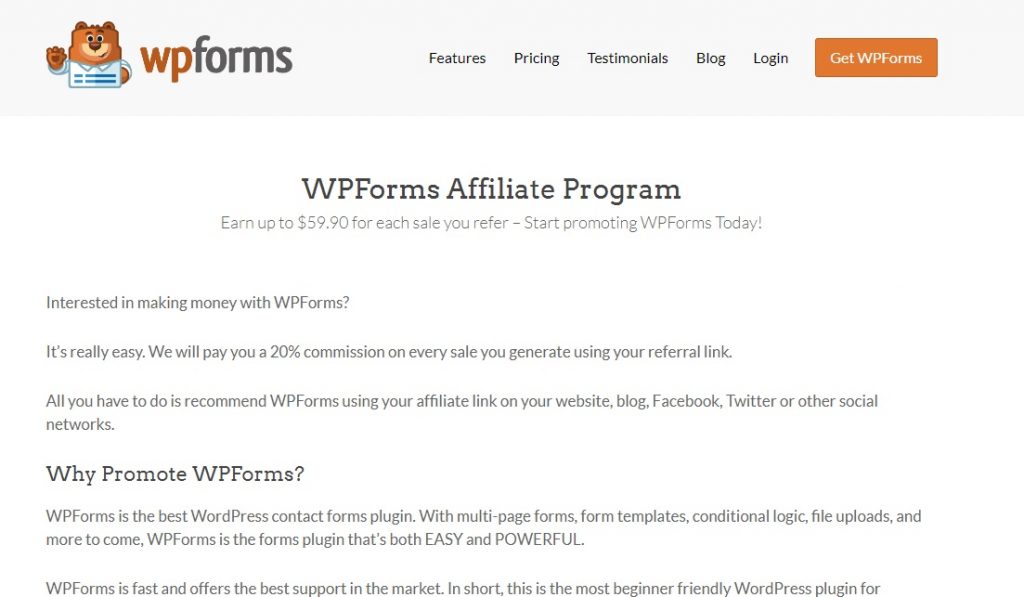 At a Glance
Earn up $59.90
20% commission on each sale
45-days cookie
No minimum pay out
Join up with WPForms Affiliate Program.
Live Chat
Did you know 55% of people say they prefer talking to a chatbot rather than waiting for a real person? LiveChat helps you connect with customers in different ways, as well as,  with the partner program you can earn while you refer.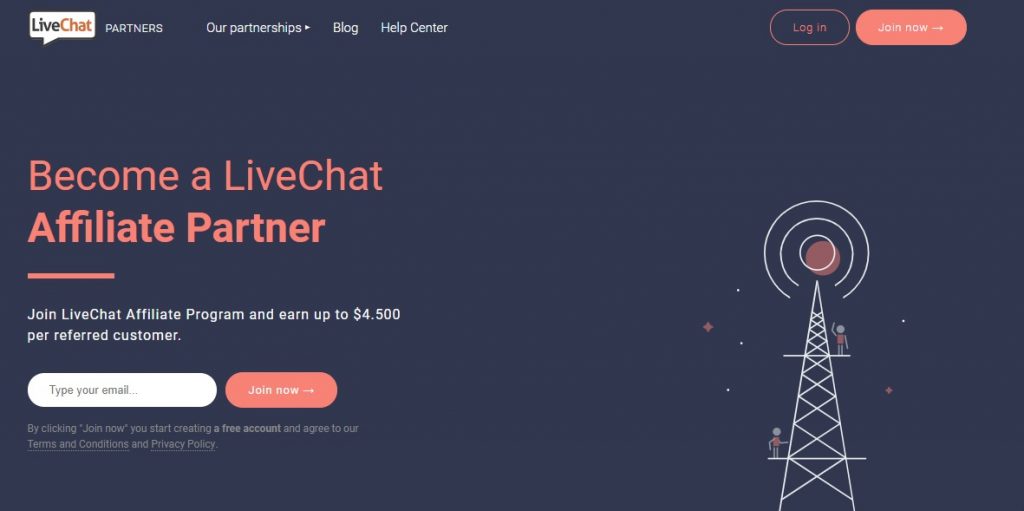 At a Glance
Make up to $4.5 per referral
20% recurring commission
Chance to earn more via the second-tier commissions
Minimum $50 pay out
Withdrawal via PayPal
120 days cookie
Start having on conversations with LiveChat Affiliate Partner Program.
Gravity Forms
Creating forms on WordPress has never been easier than with Gravity Forms. Within minutes, you have a customized form that you can use in a whole lot of ways to interact with potential customers. The affiliate program has been closed for a while, however, it is now open for business.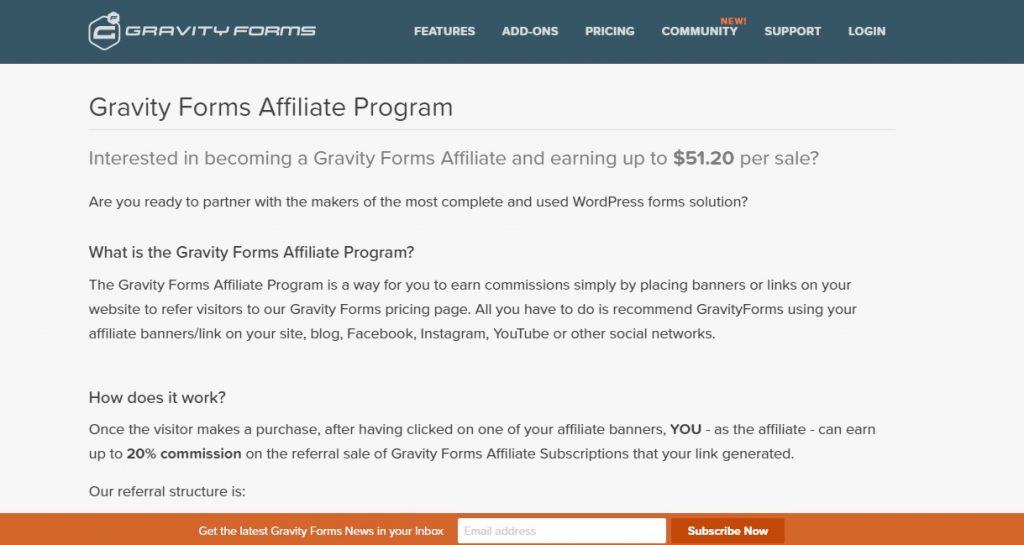 At a Glance
Earn up to $51.20 per sale
20% commission rate
30-days cookie
Start building custom made forms with Gravity Forms Affiliate Program.
Partner Program for Images
Shutterstock
A picture is worth a thousand words, which is why so many business websites and blogs use images. Shutterstock has 250 million royalty free images that suits most businesses needs along 1.4 million video clips and also music tracks for every mood and genre. All this is good news, especially for web developers who can refer clients via the partner program.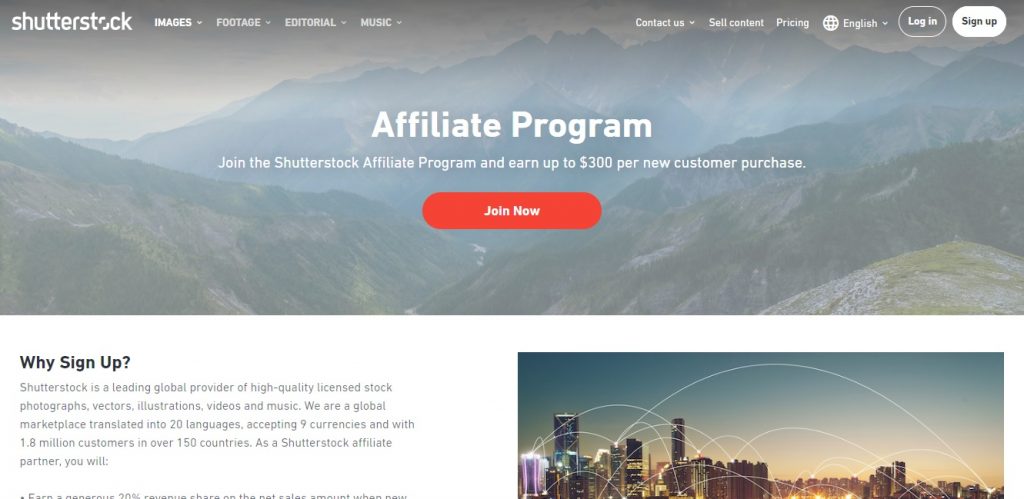 At a Glance
20% commission on net sales
Earn on Images, Footage and Music
Minimum pay out is $50
Automatic withdrawal via PayPal or e-transfer
30-days cookie
Picture it with Shutterstock Afflilate Program.
Affiliate Programs for Marketing
AWeber
Successful websites use email marketing to get the word out. AWeber provides a great place to create a variety of emails for your marketing strategy. So, with the partner program, you can earn a pretty decent commission on referrals.
At a Glance
30% recurring commission
No signup fees
Monthly Payments via PayPal
365 days cookie
Join the longest AWeber Affiliate Program.
Optin Monster
The best opt-in lead generation program in the market is by Optin Monster. Using the drag and drop functionality, you can create different campaign strategies for maximum sales conversions or subscribers. The partner program is simple to use.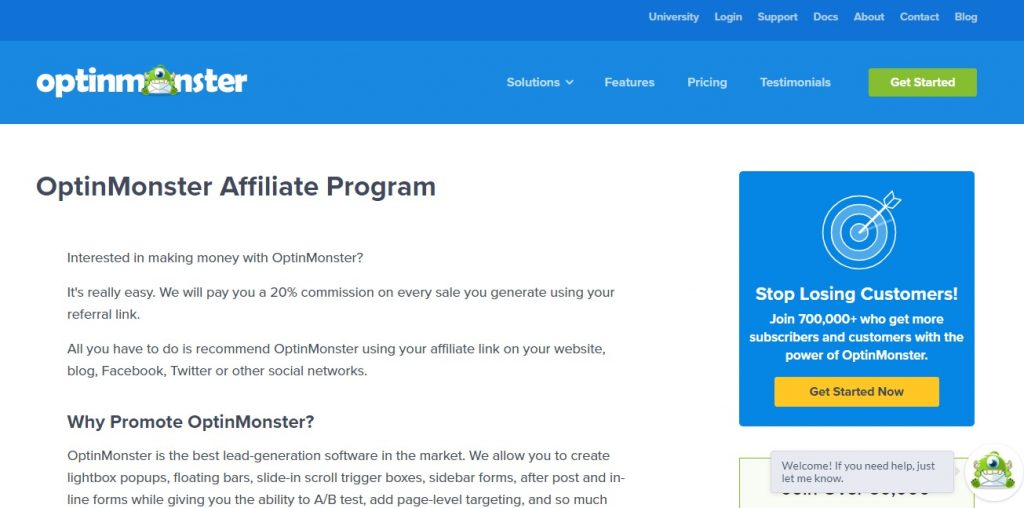 At a Glance
20% commission per sale
Earn up to $118
45-days cookie
Sign up for OptinMonster Affiliate Program.
ConvertKit
Email marketing has come a long way since its inception during the 90's. With ConvertKit you can easily automate and connect with your clients and customers using intuitive email strategies. The affiliate program pays the highest commission compared to other similar email marketing programs.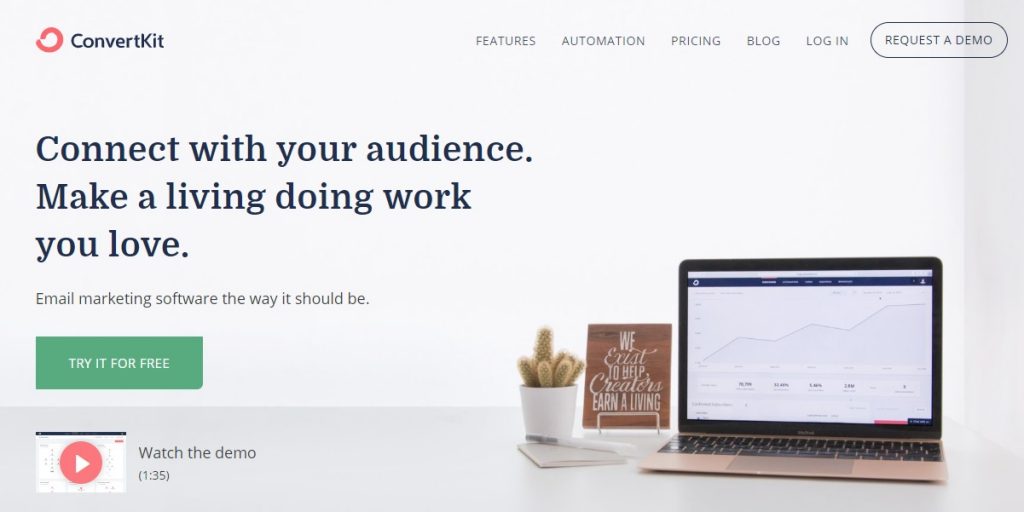 At a Glance
30% recurring commission
60-days cookie
No minimum pay out
Payments via PayPal every month
Start Connecting and Earning via ConvertKit Affiliate Program.
Leadpages
Small businesses often struggle to connect with potential clients. With Leadpages, you can easily collect leads and convert sales via landing pages, pop-ups and so on. The affiliate partner program gives web developers a chance to plump their services with lead generation tools.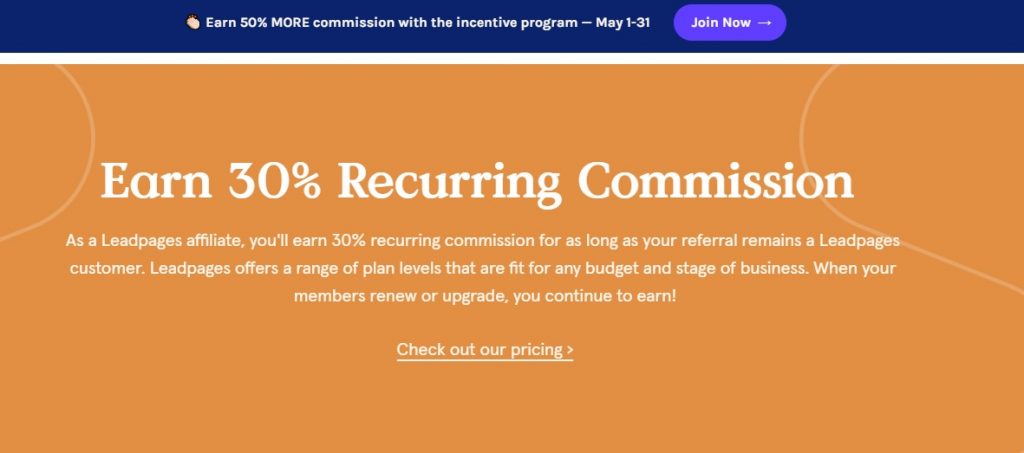 At a Glance
Earn from $7 to $59 commission per sale
30% recurring commission per sale (includes renewals and upgrades)
Payment via PayPal
30-day cookie
Get leads with Leadpages Affiliate Program.
Partner Programs for SEO
Boostability
Did you know 75% of people don't click past the first search result page? Getting exposure on search engines is the ultimate goal of every website. Boostability aims to put small businesses on the global map by helping with visitor traffic and rankings. The referral partner program is a twofold game as Boostability helps you get your SEO and content right, while paying you for your efforts.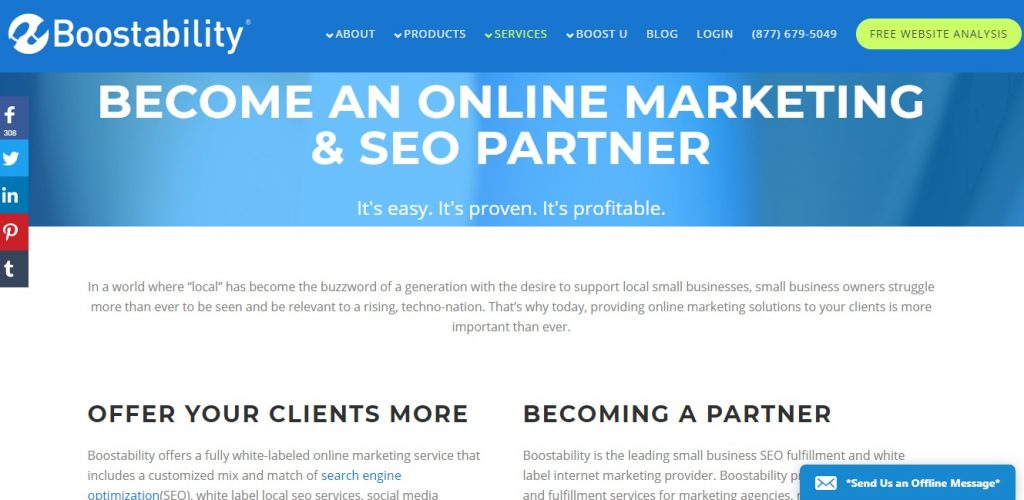 At a Glance
Earn up to $7 per lead
10% recurring commission
Monthly pay out
Refer and Earn – Boostability Partnership Program.
HubSpot
If content is king for your website or blog, then HubSpot is the perfect partner. You can find your niche keywords and create inventive inbound marketing strategies that help you rank higher on search engines. According to HubSpot itself, the affiliate program works better with sites that create a lot of content rather than marketing agencies.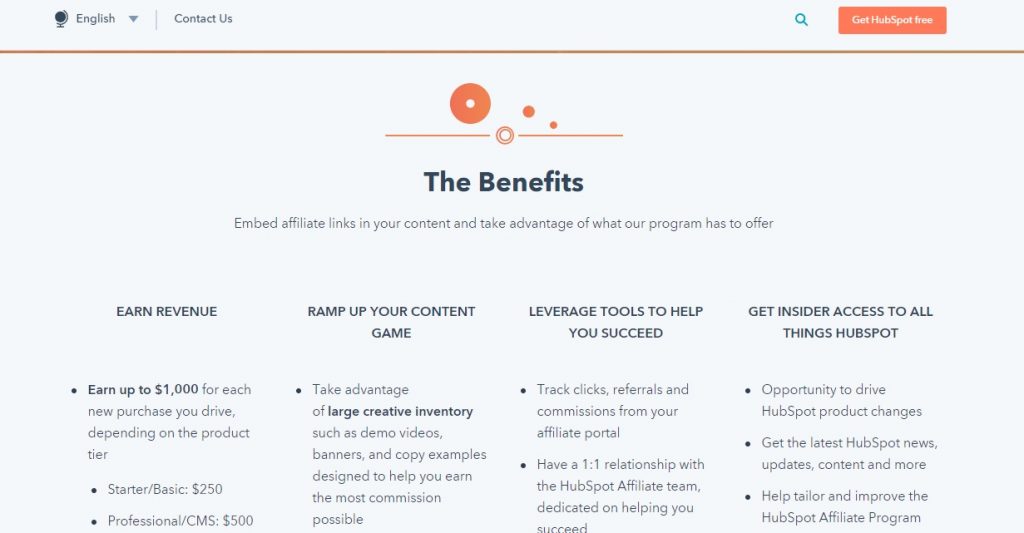 At a Glance
Earn up to $1000 per product
No minimum sales or limits
90-days cookie
Affiliate Marketing Manager
Begin Inbound Marketing with HubSpot Affiliate.
Sovrn //Commerce (formerly VigLink)
Did you know that 91% of B2B use content marketing to reach customers? Sovrn is a completely new concept, in which it takes your already created content and adds relevant links to products. The affiliate program also pays quite well.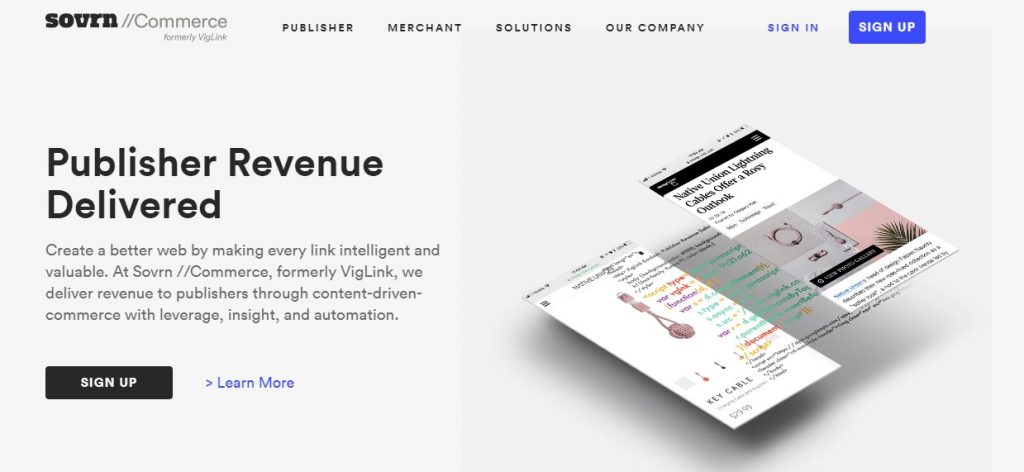 At a Glance
35% commission for first year referral as a publisher
$10 for PayPal withdrawal
$50 for ACH, check and wire
Join the Referral Program from Sovrn  //Commerce.
Data Analytics Partner Programs
Databox
Every business needs a performance review to see if your goals are hit or a miss. Databox is a game changer as it allows you to monitor different metrics from Google Analytics, YouTube, Facebook, etc. and performance KPIs within a single dashboard. The affiliate program is ingenious as it allows referrers to use a free Databox account before upgrading to a paid plan.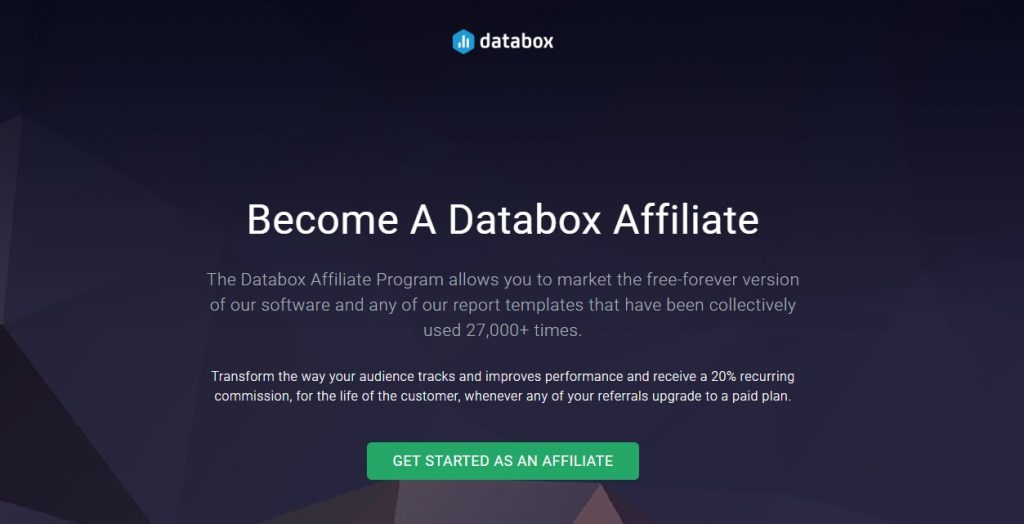 At a Glance
20% recurring commission
60-days cookie
Payment 1st of the month
Sign up for the Databox Affiliate Program.
MonsterInsights
Buyer persona helps business owners understand how visitors to their website behave. Of course,  this is exactly what MonsterInsights offers, a WordPress plugin that gives detailed Google Analytics and business intelligence to help small business grow. The affiliate partner programs will help you grow along with the already 2 million WordPress sites.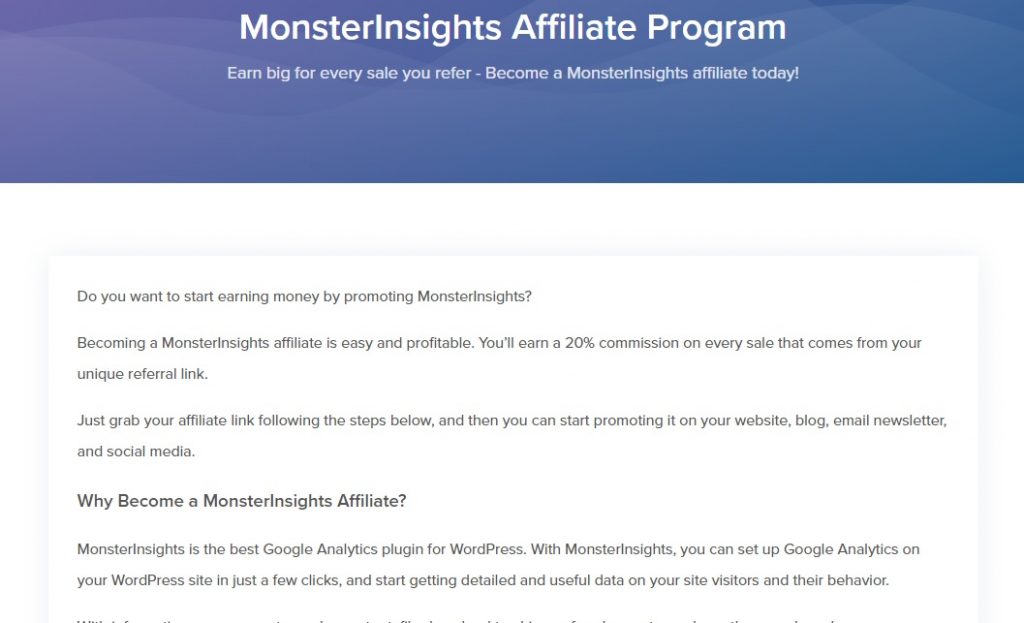 At a Glance
Earn from $39.80 to $399.80
20% commission on every sale
Payments every month
Get Smart Analytics with MonsterInsights Affiliate Program.
Accounting and Taxes Partner Programs
QuickBooks
Balancing the books is part and parcel of every business. With QuickBooks you can easily track income and expenses and create invoices and estimates. Best of all, you can promote QuickBooks software through the affiliate partner program.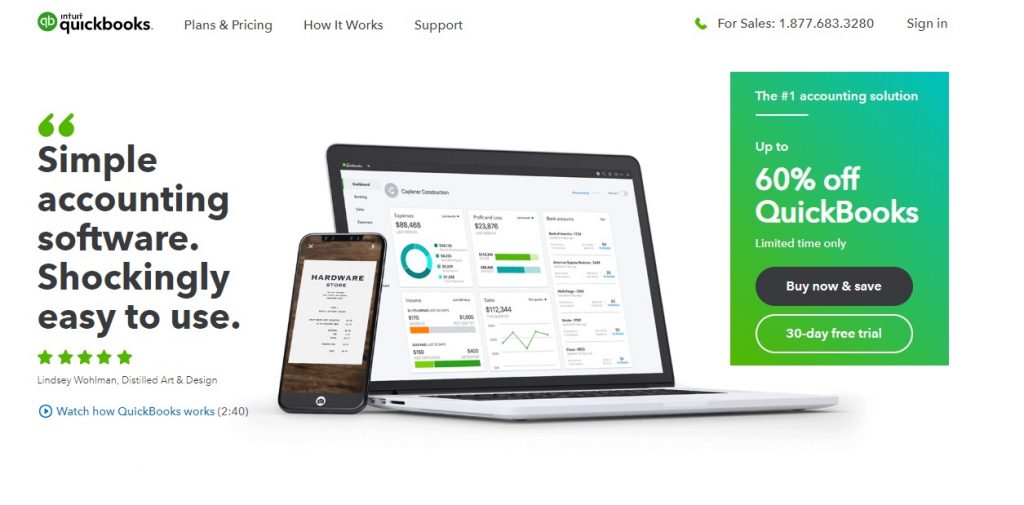 At a Glance
10% commission on sales
Earn commission from own purchases as well
No signup fees
Only for US citizens
Minimum pay out is $50
Payment via Check
Start Accounting with QuickBooks Affiliate Program.
TaxJar
Calculating your sales taxes on your inventory can be frustrating, which is why TaxJar is so popular among the already 15,000 eCommerce owners. Prepare, print and file your tax returns at the click of the mouse. The good news is there is also an affiliate program.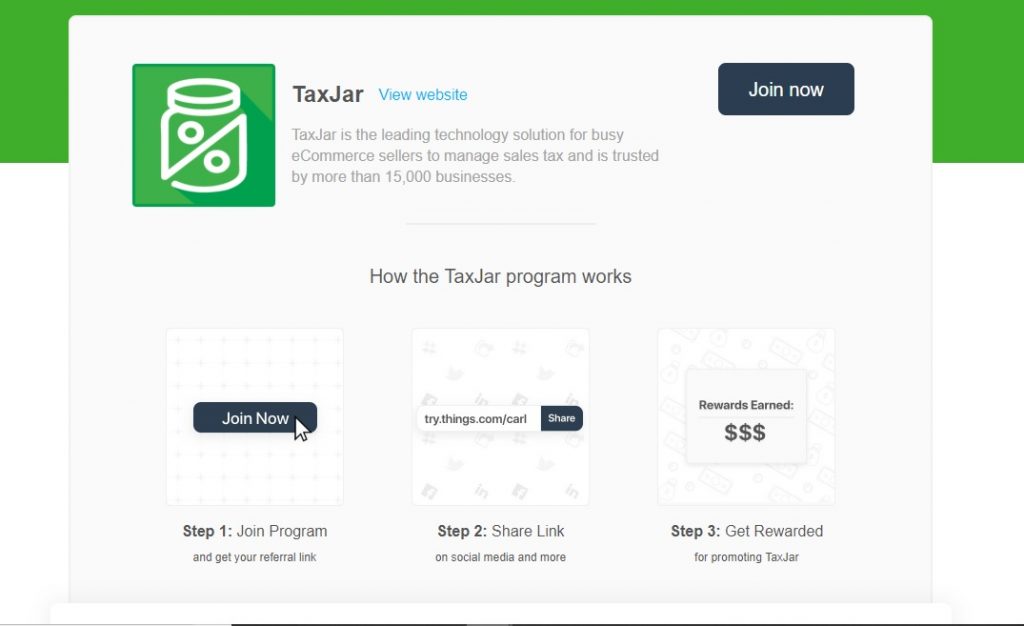 At a Glance
15% revenue share
Payments at the end of preliminary tax season
Minimum pay out is $300
Dedicated Affiliate Manager
Co-branded micro-site
Get help with tax with TaxJar Partnership Programs.
Shipping and Payment Affiliate Programs
Shipito
Did you know the global eCommerce sales will reach $3.5 trillion in 2019? Wouldn't it be nice to offer customers more ways to get their bought products shipped? Especially, those that live outside the US. Shipito is a shipping service that allows your customers to send the bought goods to them where they re-ship to global locations. The best for web developers is that the affiliate program pays the highest commission in the industry.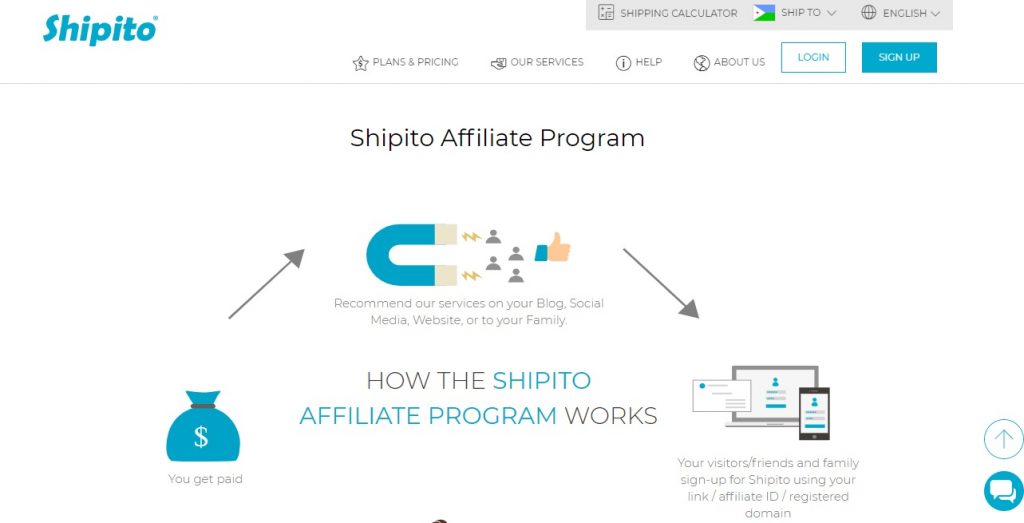 At a Glance
10% commission for the first package shipped by referrals
Bonus commissions for more than one package shipped
$5 for the 5th package shipped
$10 for the 10th package
$20 for the 20th package
No cookies necessary
Payments via PayPal, wire transfer or credit to Shipito account
Sign up is free and business license not needed
Start shipping with Shipito Affiliate Program.
Tap2Pay
Online shopping is great, however it does come with a risk. Tap2Pay offers a convenient digital wallet that allows customers to buy without giving out bank credentials. The service can be used to accept payments on websites, Facebook, Instagram, Messenger, WhatsApp, Telegram, Viber, WeChat and also integrated to chatbots. The affiliate program is designed especially with web developers and freelance bloggers in mind.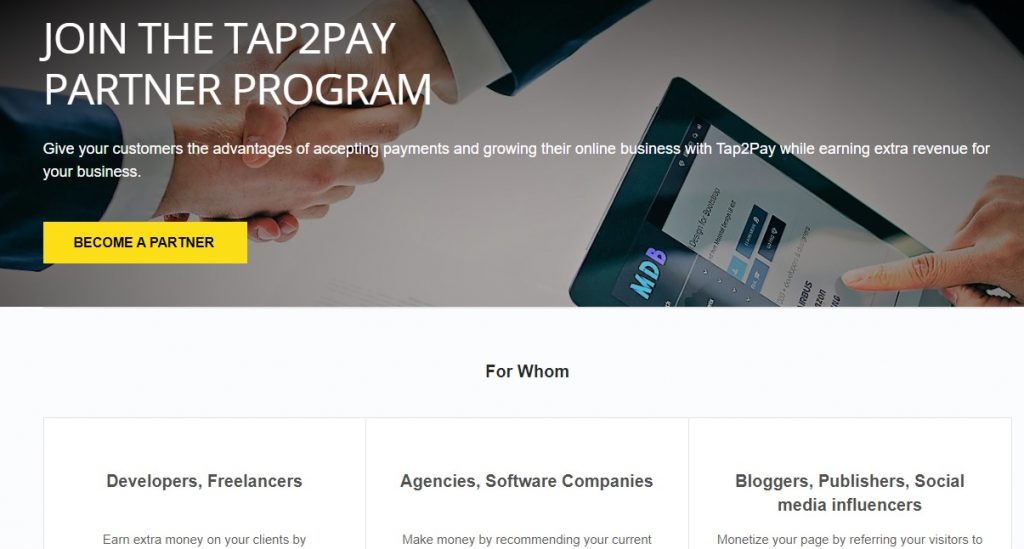 At a Glance
10% commission per transaction
Free to sign up
Join Now and Start Earning with Tap2Pay Partner Program.
Easyship
A handy one stop for all solution to all eCommerce shipping problems. You can easily update tracking on orders, print pre-filled labels, sync orders across channels and much more. The affiliate program is an added motivation to talk about all the handy features.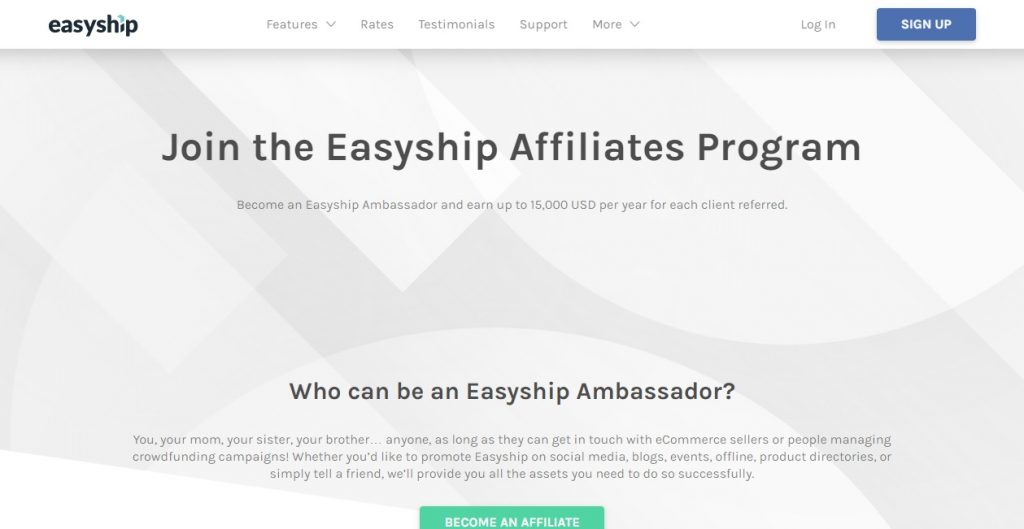 At a Glance
Earn up to $15,000 per year as the Easyship Ambassador
5% commission on total shipping cost
12 months recurring commission every time they ship
No minimum commission cap
Monthly Payment via PayPal or US bank account
Minimum pay out is $100
Check out the Easyship Affiliates Program.
Inventory Management Affiliate Programs
TradeGecko
For eCommerce owners, they often complain about how time consuming it is to track inventory and deal with all the other boring stuff related to products like stock checking. TradeGecko takes the boring out of the business. Inventory and purchasing, all the sales channels under one roof, shipping and so much more comes with TradeGecko. Of course, this includes the partner program for people who want to start an eCommerce empire.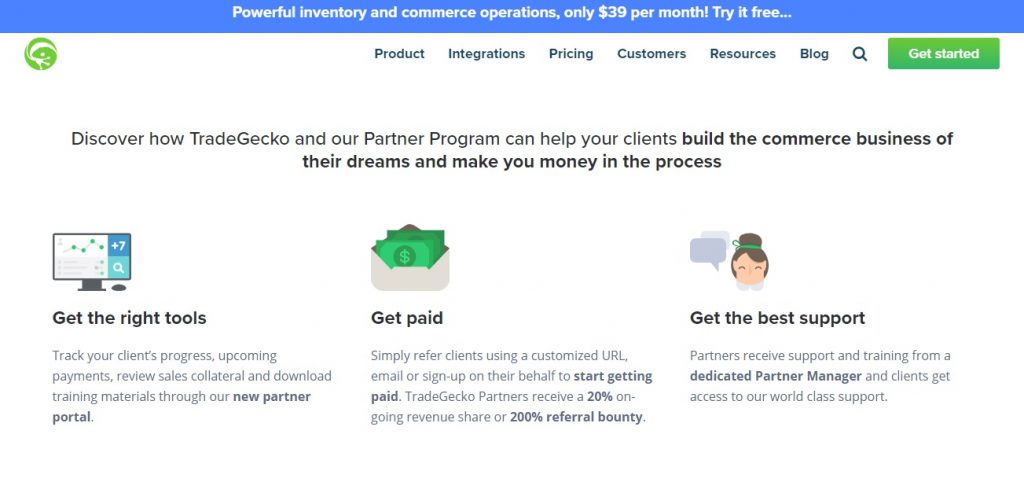 At a Glance
20% on-going revenue share or 200% one-time bounty
Monthly payments via PayPal
No minimum earnings cap
7-days cookie
Dedicated Partner Manager
Join the TradeGecko Partner Program.
Maintenance and Optimization Partner Programs
WP Buffs
Did you know that Amazon can lose $1.6 billion in sales for a one second delay in page loading? WP Buffs offer technical support for WordPress sites  and also optimization fixes in easy digestible plans. As for web developers, there is more good news, you get two fabulous programs that earn you money. The affiliate program and the white label program where you bill your clients at a price of your choosing and let the WP Buffs handle the rest.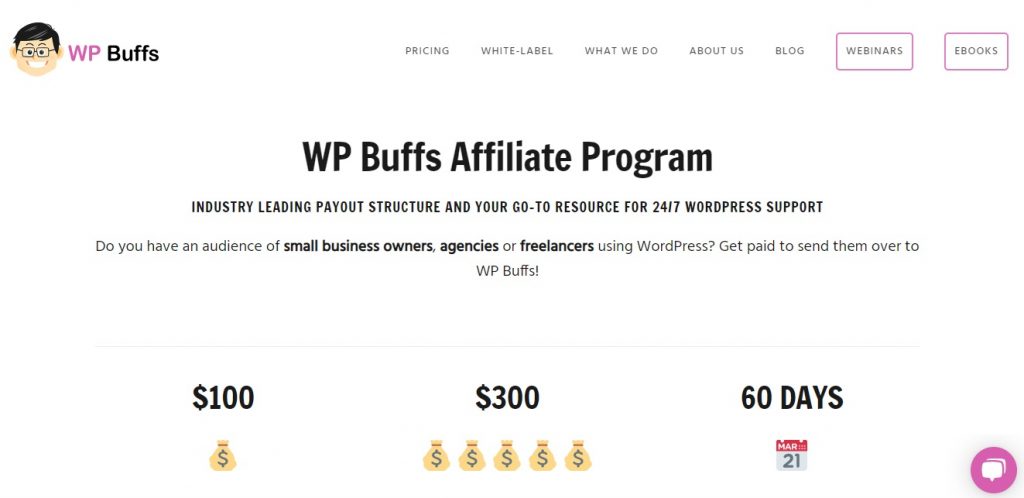 At a Glance
$100 for Direct Referrals
$300 via the White-Label Program
Discounts on plans for White-Label Partners
60-days cookie
Buff the Turf with WP Buffs Affiliate Program.
Cyber crime Protection Partner Programs
Sucuri
Did you know that 61% of victims of cyber crimes in 2017 were businesses with less than 1,000 employees? This means small and medium businesses are at an all-time risk of being hacked. Sucuri is security software that keeps your website safe from attack. Web developers can heartily use the affiliate partner program by referring clients.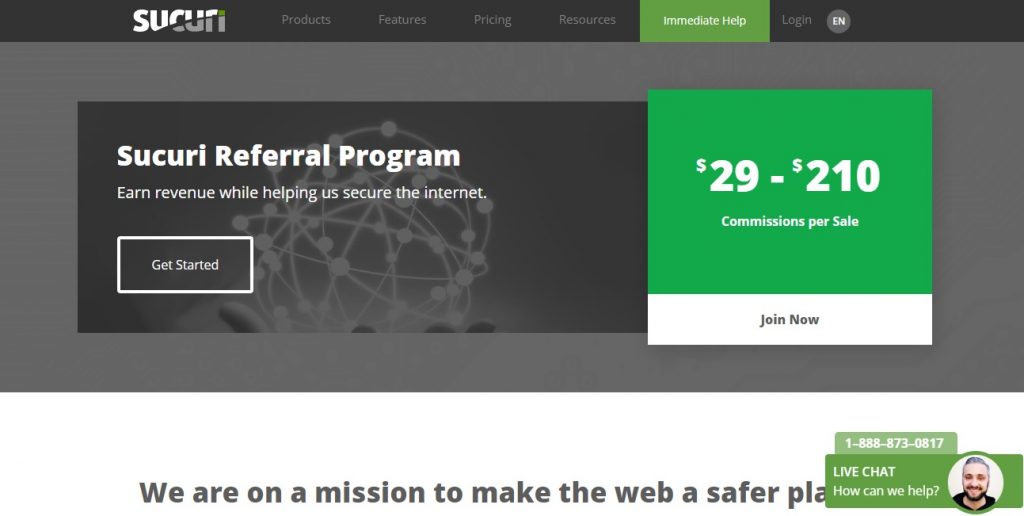 At a Glance
Earn from $29 to $210 commission per sale
25% commissions on total net purchase of Platform or Firewall plans
$100 commission for referring someone to the Agency plan
65-days cookie
Beef up your security with the Sucuri Referral Program.
Conclusion:
Web developers can carve a nice niche using affiliate partner programs to give their clients that something extra. All you have to do is create a web development website or write a blog. You can start your journey of a thousand miles with our partner programs, with Aspiration Hosting. Get started with cloud hosting and start referring your clients.

Remember the Benefits:
Cloud hosting

and especially dedicated cloud servers
15% lifetime revenue share
Custom link for easy share
Hundreds of dollars' worth of additional services like SSL certificates, Sucuri, LiteMage and also LiteSpeed cache
24 hours, 7 days a week all year-round unbelievable customer support by Experts
Host Magento, WordPress, WooCommerce, Node.js, Drupal, Joomla, OpenCart and also X-cart websites