Content Delivery Network provides optimized delivery of online content. We all know people are impatient when waiting for a long period of time to load the requested data. "Content is King" but no matter how precious the content you are providing, visitor's will leave your site if any small delay occurs in loading. In this situation what is a developer or content writer to do? The only solution is to implement a Content Delivery Network. Let's see how CDN benefits your business website.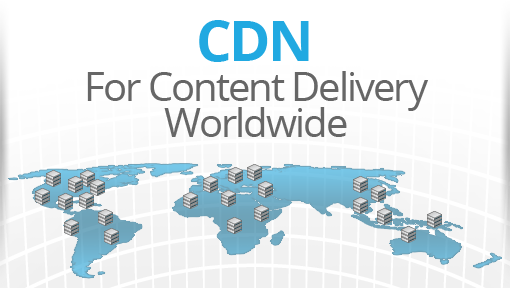 In CDN, the content delivery is from the closest server. This will reduce the page load time and also result in an excellent user experience. Similarly, if there is no CDN, Content is served from the original location resulting in the usage of more processing power and bandwidth, taking longer to reach the user. Consequently, that means a possibility of increased loading time and an inferior user experience. Here are a few reasons why you should implement CDN on your website.
CDN Benefits
Performance
Speed is the key benefit of CDN as it has a greater impact on bounce rate and also user experience. CDN is well known for its intelligence and optimizations. It sends your data through the shortest distance to the user resulting in low latency. We at Aspiration Hosting use our in-house Aspiration CDN for providing high performance to our users.
Security
Like all other networks, CDNs must guard man-in-the-middle attacks, since these attempts can overwhelm the origin server using DDoS attacks and data breaches. CDN have multiple strategies for mitigating these attacks using SSL/TLS encryption and also using hardware encryption. Redundancy of data helps to protect the original data from the hackers. We at Aspiration Hosting offer a wide range of SSL Certificates to suit your different business needs. You can install and use multiple SSL Certificates, including Multi-Domain and Wildcard SSL Certificates without issues.
Scalability
You need not worry about the sudden burst in traffic. Since your data resides in different servers, CDN will smoothly handle unexpected surges in new users. The absence of CDN will result in a server crash if any large spike occurs suddenly.
Cost
CDN is very cost effective and it avoids the use of any additional hardware to maintain a proper data delivery. We at Aspiration Hosting provide free Aspiration CDN along with our dedicated cloud servers and also along with our Pro and Plus Cloud Hosting Plans.
Reliability
Since all your assets rely on different servers, if any error occurs to any single node of hardware it won't effect your data availability. This distributed architecture will neutralize the impact of any attack. The use of CDN will also result in higher conversion rates and google page ranking.
To know more about CDN, please visit us. We are here to help you.