How To Choose a Theme for Magento 2
Are you going to launch a Magento store? Have any doubts? We hope to dispel all your qualms in this article. Be sure to read it from cover to cover, it will help you take the right decision.
Does everybody know what is Magento?
Magento is the biggest eCommerce platform in the world and it is still growing. Magento underwent some major updates and features introduce and they made it one of the most versatile eCommerce solutions out there. Magento is scalable, the platform is reliable and its community is wonderful. Magento allows you to enjoy a variety of management, marketing, shipping and payment options that take your eCommerce experience up to a whole new level. You will get to know what it means to be in charge of your business with this awesome platform.
Why Magento templates from Template Monster?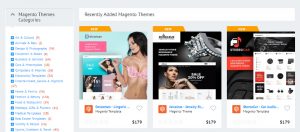 TemplateMonster's developers wanted to be sure that your eCommerce experience with Magento is as smooth as possible. Their philosophy behind the products is as follows: deliver the best possible Magento templates, which reveal and enhance all of the amazing features Magento comes with. They are a part of the biggest eCommerce community and regularly contribute to the pool of available Magento themes.
What are Magento themes?
Magento themes are ready-made layouts developed for online stores. They operate on the basis of Magento eCommerce platform. What does a Magento theme download package contain? The files, graphics, modules and rich documentation to help you build the best web store ever. Magento themes allow to modify the look and feel of an e-store and have the multi-language support. Magento is an open source platform perfect for eCommerce businesses. Yes, you can experience all of the basic Magento functionality for free with the Community Edition. This is a number one choice for small and medium stores. Magento's Enterprise Edition is great for large stores. Please note that the default Magento theme is very basic as it's a part of a free product. It lacks certain functionality and cool design elements. That's why we advise opting for premium Magento themes. They are a wise investment, as they offer bags of functions, visuals, and design skins. Here is a list of key features to pay attention to when choosing a Magento 2 theme:
Responsive design – your store will be perfectly rendered on any screen of any size and on any device. Responsive page elements ensure crisp and pleasant browsing experience for all of the device range that your audience employs.
The process of installation is simplified. Anybody can install, customize and operate Magento designs with the help of detailed documentation supplied with every layout.
They provide advanced product presentation features. The themes allow your customers to pick between List and Grid category views; spice it up with a responsive (touch-friendly) product carousel.
The also have multi-language support. All of the premium Magento website layouts are translated into 4 languages: English, German, Spanish and Russian. This means you can cater to a wider international audience.
The themes are fully responsive. They work on any device, screen type and resolution including retina displays. Every element of the page is fully responsive: from buttons to image sliders, etc.
The themes come with Icon Fonts. Icon fonts contain symbols and glyphs, but you can also use CSS to change their appearance. Since these are vector images, you get crisp and scalable font icons, which look gorgeous on Retina displays. You can take on any PPI or any display with these.
Don't you think that it's time to view some of the newest Magento 2 themes? They are waiting for you right below.
Best Magento 2 themes for different types of businesses:
Magetique – The Most Comprehensive Multipurpose Magento 2 Theme
This theme is full of incredible features that help you manage your store, increase sales, and build a loyal audience. The theme is easy to update and manage. Magetique was designed to convert. Developers combined slick visuals with their user experience knowledge to bring you the most advanced store designs and layouts. They facilitate conversions by creating an aesthetic and intuitive shopping experience.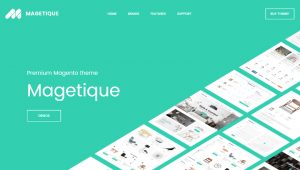 Demo |  Details
F2 – Fashion Boutique Magento 2 Theme
This modern responsive fashion boutique theme is shipped with TM modules that will let you save $1060! Can you imagine that? It is equipped with Megamenu, which will help your customers find the information they are looking for quickly. You can feature all your products on the unique catalog page. The unique product page is also available. Categories badges, image slider, carousel product listing, sticky header, configurable swatches, and so on are also here for you.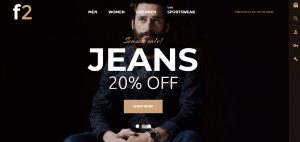 Demo |  Details
Polasmos – Fashion Store Magento Theme
This theme is responsive, which allows your site to quickly adapt to any gadget with any screen size the user has in hand right now. Text and images are flexible as well, so they will be rendered correctly. This will boost your conversion as your visitors will not be restricted by any limits in terms of their location or device. The theme is shipped with Megamenu, which is an amazing extension used for creating beautiful, customized menu for your site. With minor tuning required, tons of options to choose from, and the ability to show categories, subcategories, and posts, Megamenu is a must-have feature that can easily boost your SEO and user engagement.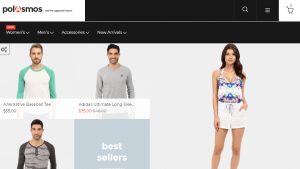 Demo |  Details
Lantiana – Party Supplies Magento Theme
This colored design will surely draw public attention to your holiday shop. Newsletter subscription pop-up will help you easily subscribe your visitors to your newsletter. The template is equipped with sorting options. The feature provides online shoppers with multiple product display options. Thus, one can opt for a grid or list-based view, sort items by best-selling, display products in alphabetical order, etc. This is an Ajax-based feature, so all changes are applied without reloading the page.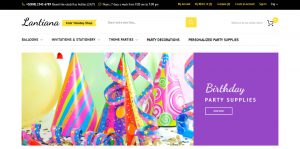 Demo |  Details
Articon – Art Gallery Store Magento Theme
A very artistic theme designed in lilac colors for museums, art galleries, photography exhibitions and so on. You can customize this ready-made store layout to fit any special needs. We mean you can add an unlimited number of banners, sliders, and blocks. Put a smooth slider on the Home Page to showcase the best store deals and products. A video background is also included on the page. The theme features a full drag & drop Mega Menu module to help you create easy-to-use navigation menu looking just the way that you want. The theme is also provided with premium Social Sharing and Blog modules to promote your store and improve the SEO ranking.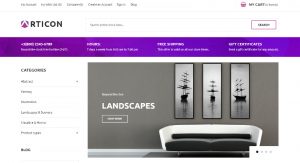 Demo |  Details
Your turn
Now we are ready to hear your impressions/thoughts/suggestions as to the Magento 2 theme. Are you ready to make your pick? Which theme will it be and why? Please feel free to share your choice in the comments.