Today Magento Extension has 60,000 clients around world. However, you can get free updates & support for one year free with Mage Modules. The plugins are mostly suitable with top plugin developers. They also help you to increase aspects like sales, browsing options, rate of conversion, campaigns & stock management etc.. Now just signup and login as a client to try the Magento extensions. Lets roll on to the topic "Install Plugin Magento" and how to do it.
Downloading the Mage plugins
There are two basic ways to download Mage plugins or extensions.
Firstly search and go to Magento Connect. Hereafter log in and copy the extension or plugin key. Then enter the key(s) into Magento Connect Manager. It can be  done in back end of Magento store.
Secondly you can do it by command line using pear etc.
There are also other ways like direct download and upload extensions. But the process still needs to copy the plugin keys From Mage Connect.
Install Plugin Magento
The operation begins by visiting to Mage Connect website. Although the Mage Connect Manager is a free tool to install and upgrade the Mage stores. You can also do the installation and setup process from your back end. However, Mage Connect Manager can just install the themes and plugins. But the plugins should be uploaded in Mage Connect before installations.
Step by step installation:
Please follow these steps to install plugin Magento.
Step 1: login in to your Mage Connect Manager
1. Start of login into Mage connect.
2. Now, browse through System >> Mage Connect >> Mage Connect Manager.
3. Then sign in to the Mage Connect Manager.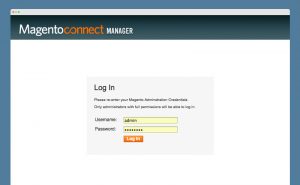 4. Hereafter into the Extension tab >> Install New Extensions. Now, click Mage Connect to browse for extensions or plugins.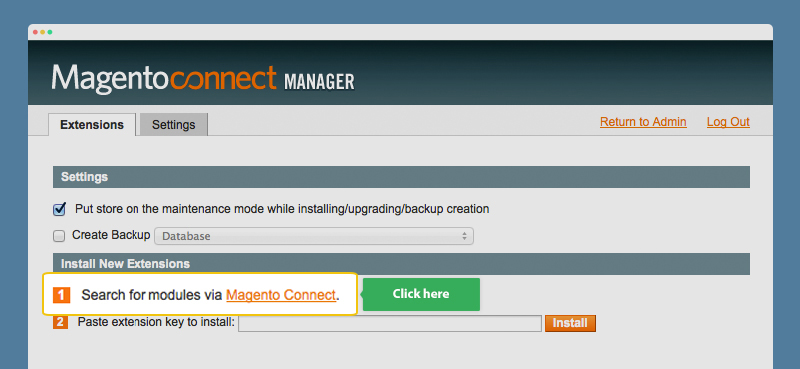 Step 2: Copying the Extension Key
1. As a result, the page redirects into Mage Connect. Then browse and select your Theme from Themes . You'll find these features under Utilities tab.
2. Then Press Install Now to start downloading the extension or plugin.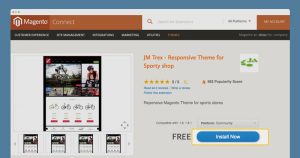 3.Now Check the box, I Agree to the Extension license agreement. Hereafter press the "Get Extension Key"  button for keys.
4. Press CTRL A  to select the extension keys. Then press CTRL C to copy the keys.

Step 3: Installing the extension or plugin
1.After copying the keys just go back to the Mage Connect Manager.
2. Then go to the Extension tab. Now under Extension >> Install New Extensions press CTRL V to paste Extension key. Now press Install to start the setup process.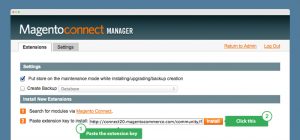 3. The Extension dependencies showoff with the status that you're Ready to install . Now press the Proceed button to complete the setup .

4. After that keep patience till you get a notification for successful installation.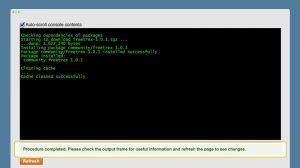 5.Finally To finish off, click the Refresh button.
In conclusion, for the plugin installation coders can stop over here. However if you're installing a theme please do the following steps.
Step 4: Theme settings
1. Now press on Return to admin tab in the upper right of Mage Connect Manager.

2. In Themes tab under design, Give the theme a name for example jm_trex. In the Default field box.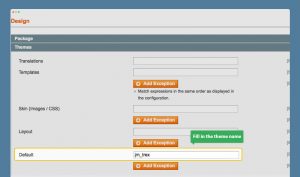 3. Lastly click on Save Config to complete setup. In a short time the notification for a successful installation will show off.

That is it, we are done with installation of plugins and extensions.
Aspiration Hosting provides super fast Mage hosting plans starting at just $9.99 per month. Our hosting is supported by Lite Mage cache. As a result your site will load quicker than ever. In summary people will love to be on your website. So more traffic can lead your businesses to a new hike!