Do you know what should you do next after installing WordPress? Even though the WordPress installation is pretty easy after the completion most of the beginners get stuck without knowing what to do next. This article will help you to know about what all things you should take care of.
Factors to take care after installing WordPress
1. Enter key information
After WordPress installation, you have to enter some key information like,
On your WordPress dashboard, Settings>General. Here you will be able to enter the name of your website and a tagline where you can mention what your website is all about.
In the General section, Scroll down to change the date and time of your website. You can choose the time format and also can adjust the date according to your wish.
When you are blogging, your profile will be shown along with your post. It's a good idea to fill this short section.
Dashboard>Users>Your Profile. Here you can enter the username, basic contact info, a short biography, and a profile picture.
2. Delete Excess Content
The first time when you load up your website you can see some demo contents there. This is just a placeholder content and you have to delete it. 
Delete Sample Post and Pages
Remove the sample post from Post>All Posts. Similarly, sample pages from Pages>All Pages.
You will have a default theme while installing WordPress. While removing the excess content you have to delete the unwanted themes also to save space. To delete theme, Dashboard>Appearence>Themes. 
3. Choose Themes
After removing unwanted data, you have to install a theme on your site. Either you can choose it from wordpress.org or choose it from a third party. Choose a theme depending upon your business and also on your budget. Both free and paid themes are available. But note that paid themes usually offer wider customization options, frequent updates, more attentive support, and smoother functionality.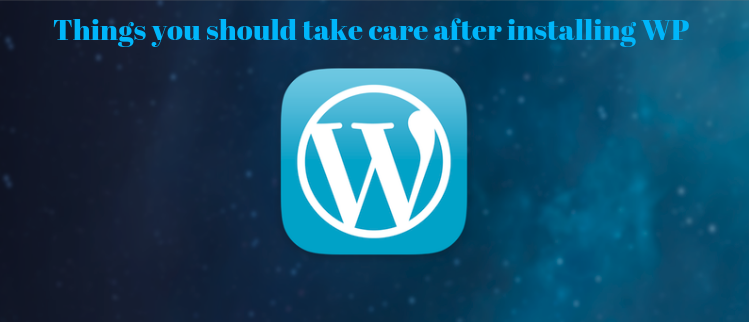 4. Choose Plugins
A lot of Plugins are available to improve the WP features according to your needs. Additional features like product and service listings, two-factor authentication logins, payment processing, etc are possible with plugins. 
5. Secure your website
Keep your website always safe with strong passwords, a hidden administrator URL, and also always make sure your software is updated to the latest version.
Reach us to know more about this. Aspiration Hosting is always happy to help you. Also, we provide 24/7 topnotch technical support.