Magento is the most popular and also widely used eCommerce platform. It is a platform that delivers the features to build a unique store. You can extend the features of your store by using the extensions available at Magento marketplace. Magento is a limitless eCommerce platform. It is known for its flexibility and speed. It is a platform with eCommerce Content Management System,  which is up-to-date with the latest features. Magento is one of the favorite platforms for developers and users because of its uniqueness and thousands of extensions. It is also a mobile-friendly platform. LiteMage Cache is the reason behind the speed of Magento platform. Let's see how this LiteMage Cache affects Magento.
Features of LiteMage Cache
1. Use of Memory
First of all, LiteMage makes use of only minimal memory. However, it is able to cache both static and dynamic content. When a request arises the LiteMage will assemble and serve the content with minimal resources. CPU usage is always kept low in LiteMage Cache.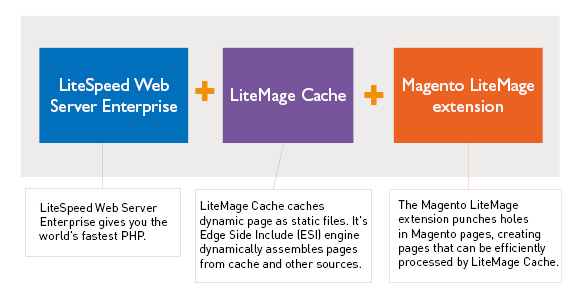 2. Page Load Speed
Visitors will leave your website if it takes more time to load the data they requested. No one will wait a long time to get services they are pursuing because they have a lot of choices. Therefore, if your site is down, visitors will move to another site since multiple choices are available. In LiteMage Cache, a single request from the visitor will bring them multiple content blocks. This will reduce the page load time. Hence the content of your website is available to the visitors within a short span of time.
3. SSL Support
Finally, another important aspect is security. Online sites always need tight security. For an online store there are different payment gateways. LiteMage offers SSL Support. This will helps protect your website from hacking attempts. LiteMage also consists of an anti-DDos feature to defend common HTTP attack.
So always choose a web hosting provider who provides hosting services with LiteMage Cache for your Magento site. We at Aspiration Hosting use the LiteMage Cache for Magento and LiteSpeed Cache for WordPress. Along with this, we provide 24/7 topnotch technical support.
We are here to help you with any doubts about Magento and Cloud Hosting. Please visit our website to chat with us about any questions or concerns.