Here we'll discuss the Magento check php download process. Before we begin with Magento it's always better to follow some initial steps. Hence one of them is a server compatibility test for Magento. Further we need to download Magento check php file for testing server compatibility. In particular, we'll discuss both Magento check php download and setup process.
However, we're providing both SSD cloud hosting & servers. Both of our pro & plus hosting plan includes featured services like Aspiration CDN, Web development & site-transfer support. Further our basic hosting starts from $9.99 per month. Also enjoy the dedicated cloud 4GB service for just $149 per month. So join us to enjoy different Aspiration rewards on different occasions. Visit us right now for more special plans & contact us for any information & support. Tanzia Farin Chy – Aspiration Hosting
Magento check php download
As a Mage developer or merchant, we need to make sure that our server is compatible and suitable for Magento installation. Because there are many server system requirements we need to meet for running Magento successfully on the server. So it's better to take precautions before going live to the web. Here are the few simple steps to test Magento compatibility with the server:
First we need to download the magento-check file. Next check download folder for Magento check php file inside your local PC. Further unzip the file using any using any software: winzip or winrar etc. Now we can see a file named magento-check.php file.
Secondly we need to login to cPanel using credentials or by connecting via an ftp server. Here you can read our other article about connecting to an ftp server for example: Filezilla etc. So as per your feasibility connect to the server and upload the extracted file magento-check.php. Here remember we need to upload the file inside our ROOT DIR or Mage DIR.   
Finally use browser to visit the following link and check the compatibility with server.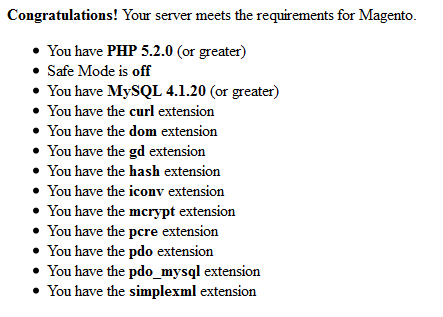 For code: http://samplesite.com/magento-check.php
For source: http://samplesite.com/magento-check.php
As simple as that!!! So keep believe on us and enjoy optimized Mage server with Aspiration Hosting.