For all of you who are not aware of what Magento CMS is, it is a content management system. A content management system allows a platform for websites by controlling editing history, publishing materials and other features needed to run a website. These consist of contents such as images, text format, audio, video, etc.
However, if you already choose Magento as your CMS for the next online store. Here we would like to introduce our self as one of the best cloud Hosting provider for Magento. Including hosting we're providing premium Web development support and services like Aspiration CDN, SSD storage etc. SO, have look to our special hosting packages on Magento.

Mehedi Hossain Chowdhury for Aspiration Hosting

Aspiaration Hosting One stop Magento solution
Magento CMS is a platform that allows you to control your online retail store by offering multiple features that enhance the quality of your site, accessibility for users, and provide great SEO benefits. Magento CMS is one of the most widely used CMS among the top-rated eCommerce brands.
HOW DOES MAGENTO DIFFER FROM OTHER CMS??
You may wonder in a world where the eCommerce market is quite competitive, not everyone settles on Magento CMS. Some people prefer other CMS such as Prestashop. What is it that is unique about Magento that cannot be found anywhere else?
Magento is the most reliable eCommerce platform among many top clients. For the past few years, Magento's flexibility has helped gain trust from their clients. Magento can allow you to receive payments from customers through various methods. And payments can be received from all over the world without any complications. Updating your site is much easier with Magento admin panel. Another unique feature of Magento is that you can manage a number of sites with a single admin.
Simply following features definitely wins the race for Magento.
Magento also offers multiple languages. For instance, you want to launch a site that can function in multiple languages, Magento is the right choice for you. Most of the CMS is highly complex and not everyone can properly use it. With Magento CMS, you do not require intensive knowledge about the tech background. It is an easy setup process. Within just a few clicks, your site is ready to be delivered all around the world.

Magento CMS also offers a clear admin code for a great user interface. It has elements that make the website look alluring leading to attract a larger customer fan-base. Last but not least, Magento CMS offers a greater SEO benefit for your site compares to other CMS.
For example, when you are launching an online retail store, it must occur to you that you want your site to be available on the first page of Google. You want your customers to easily find your site within a few clicks. This is one of the main reasons Magento CMS is different. Magento makes your website more accessible to the customer. This will also boost your sales, as well as, boosts search engine rankings. This allows your business to earn larger profits when you rely on Magento CMS.
ADVANTAGES OF MAGENTO CMS
You may wonder what are the advantages and benefits of choosing Magento CMS over others. Well, let's begin by naming a few.
1. Magento CMS has an easy setup process which allows amateurs to build a strong website.
2. They have a support team that includes over 600,000 members. Whenever you are facing difficulties due to Magento CMS, their strong support team will be right at your service during any time of the day. There are various methods to contact their support team as well.
3. Security is one of the most crucial factors during eCommerce setup. You do not want unauthorized people to access your personal information. Magento CMS offers a strongly secured service. You will have to worry less about malware and hackers. Their built-in features automatically secure your site. You do not need to put extra effort and time to protect your site.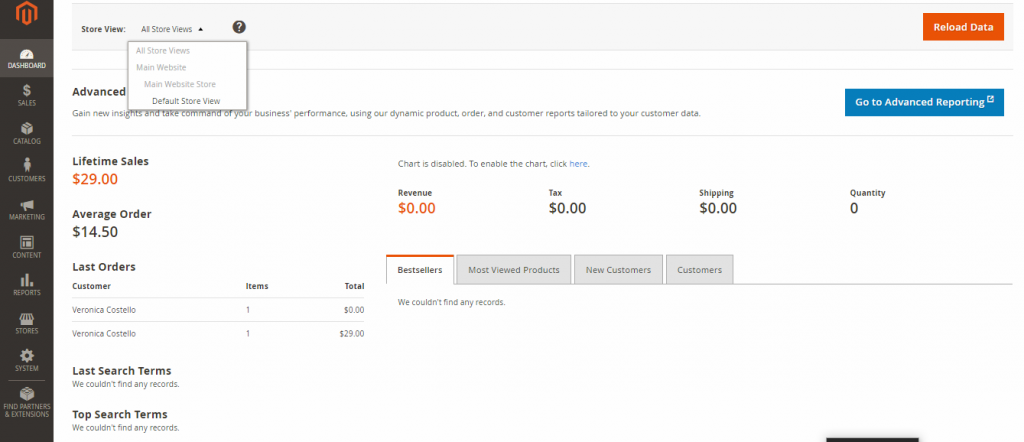 More
4. I cannot stress it enough, more SEO benefits mean higher sales rate. Magento offers features that lead to more profits and higher sales. It reaches out to more customers.
5. Last but not least, Magento CMS offers great server performance. It is a high maintenance CMS that doesn't slow down your server. Even when a large number of people are trying to access your site, you will not face difficulties. Magento allows your site to run smoothly without any interference.
6. It automatically updates your site when required. You do not need to run the extra mile. Your CMS can manage it all for you.
7. You can accept payment via multiple procedures from every corner of the world!
8. More available features choose from to help customize your site. More formats and functionalities available to optimize your eCommerce.
DISADVANTAGES OF MAGENTO CMS
Moreover, after all the positive remarks about Magento, there are some tiny disadvantages that make people hesitant about choosing Magento CMS. Compared to other CMS, Magento is more expensive. With other CMS brands, you will have to pay less every month. Since Magento offers more benefits, it comes with a price.
Futhermore, Magento CMS takes a longer time to develop. Magento has a complex infrastructure that will require time to set up. Rome wasn't built in a day. All good things take longer to develop. Magento also takes gigabytes to process. It takes up a lot of RAM. Magento is written in PHP, sometimes it cannot handle the load. This process delays and takes up more space. Another small disadvantage is that whenever Magento goes down, so will all your sites. Hence at times, your site will not function properly and it won't be under your control.
Conclusion
Regardless of its cons, the pros cancel the cons out. Hence, Magento received the most public demand out of all eCommerce platforms in 2018. Magento CMS is a different take from the rest of the crowd. They offer benefits which other platforms are unable to offer.
All the advantages add up to be the best CMS there is on the market. So, you cannot possibly compare with any other CMS. If anyone who has previously used Magento knows how much sales you can make through Magento. And better sales should be the motive of any eCommerce site.