Among many others, Magento database settings are one of the most important part of a basic Mage store setup. Though it covers a very wide area such as Creating, Adding & Configuring DB etc. However today we're going to show, how to create a new DB using our cPanel in easy simple steps. Also we'll discuss the process of setting up privileges for DB.
As we all know that setting up a DB might be a quite difficult task sometimes and it's a vital part of Mage store setup. Because while in development all of our future DATA will be stored over here. So, making any silly mistakes at this regard will crush the DB and thus our Mage store. So, we request our honorable clients to leave the task for our Tech team. And don't worry as in we're Aspiration Hosting, providing 24×7 Tech support to our clients even using our basic Mage hosting plan. Also remember the service is absolutely free and begins from $9.99 per month.   

Tanzia Farin Chy for Aspiration Hosting
Magento Database settings – Add DB
However remember here we're using our Aspiration cPanel for setting up DB & privileges. So, follow these following steps to the setup DB yourself:
First login to our cPanel with your account credentials. In case you've lost or forgotten the details please contact support to recover your credentials.
Under the Data Base (DB) section please find the MySQL DB.
Now click on the icon and it'll redirect you into a new page.
Here you can see a blank field where you'll need provide a desired name of your DB. For example it can be: asp_database. Here note, do not use space in between the DB name. Instead of the space or any other characters using (_) underscore is a good practice.

Next click the button Create Database to moving forward.
Above action will create new DB and by scrolling down we can see the new DB created. Simply scroll to find the simple form for creating new user for the DB. Next her, enter your username, password and re type the password to setup credentials for DB. Here note: must use a good and strong password to save your data from hacking in near future. Finally click on the Create User button to save the new user.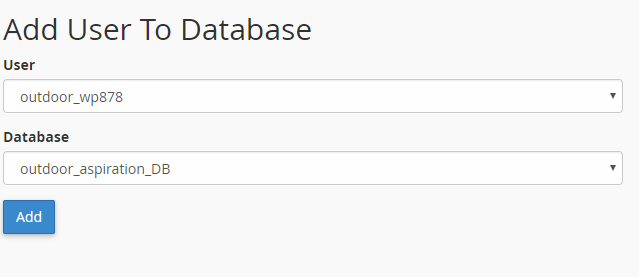 Again we'll scroll to Add User into our newly created DB. Mostly two fields with drop down list. Here use the drop down and select the predefined user and DB name. Now click the Add button to add user for the specific DB.
Magento Database settings – Setting up Privileges
Likewise other vital set up setting up privileges for users are very important. By setting up the privileges we can define roles for different admins inside our specific DB. For example: a user having all of the privilege can READ, WRITE & ALTER DB as required.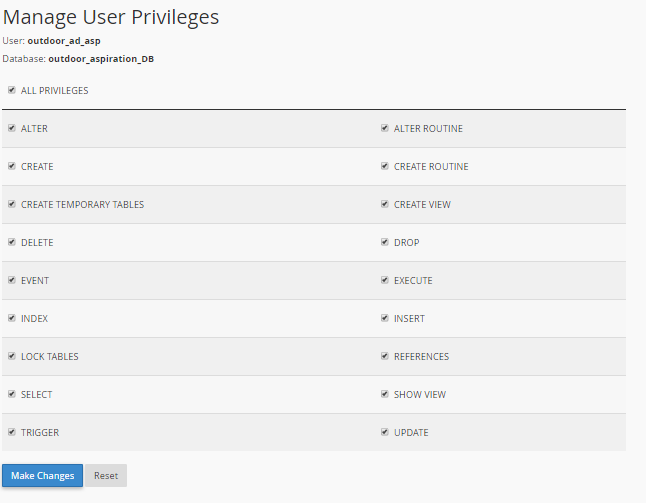 By continuing the same, we are now in Manage User Privileges screen. Here we'll see many options with tick box. For setting up Admin privileges we'll suggest to tick all the boxes on screen or tick All Privileges at top of the screen. Finally we'll click the button Make Changes to save the changes made for the specific user privilege.