The development of technology results in various inventions. With the development of the internet, online shopping becomes more and more popular. If you are planning to start an eCommerce store the best platform is Magento. Magento eCommerce Platform offers two versions free Community version and also the paid Enterprise version.
Benefits of Magento eCommerce platform
Hosting
Magento platform allows your eCommerce store to select any hosting company of your own choice. So you can choose a plan that suits your needs and more importantly, your budget. But one thing you should keep in mind is to never choose a lower rate or free hosting services because the support from such providers will be very poor. For an online store, always choose a hosting provider who provides 24/7 support.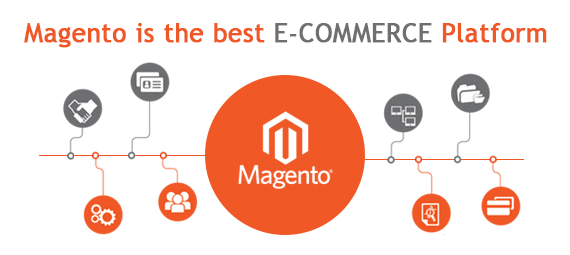 SEO and Mobile Friendly
Magento is a well-known platform that optimizes an eCommerce site with advanced SEO solutions. SEO score of a website is one of the important factors that bring visitors to that site. URL structure, Page traffic, duplicate content, landing page, indexing, etc. are efficiently managed with this SEO. A mobile-friendly site always gives you a positive user experience. This positiveness is the factor that holds a user to a website. Magento is also a mobile responsive platform. If your website is not mobile friendly you visitor will leave the site completely and most likely, will never return again. Hence, you will lose your business. 
Loading Speed
A dream for a fastest eCommerce site became possible with Magento. Speed is also an important factor in your sales. Fastest loading pages help customers to stick on to your website and also it will help to bring back your old customers if they get good experience. We all know the difficulties that come with waiting for a service. Everyone gets irritated and also the visitors will leave your site soon. High loading speed is possible with Magento eCommerce platform.
Flexibility
Magento is highly flexible depending upon your business size, requirements, and also budget. Thousands of themes and also templates are available in Magento. If you are planning to run a small store you can choose "Magento Go" whereas Magento Enterprise suits medium and also a large business.
Reporting
Every business owner would like to get a report about what are the products they sold, what all is in stock, are just a few examples of how to find out how their business works out. Magento makes the sales easier by providing a proper report about the store.
Aspiration Hosting is one of the top Web Hosting Companies.  We provide 24/7 topnotch technical support. You can reach us anytime. We are always happy to help you. Let's talk about your future. Your website is always safe in our hands. We also have thousands of happy clients with many positive reviews around the web.