Magento eCommerce platform consists of features that deals with full adaptability and control over the client encounter, to get things done on their online channel. The Magento features are effective advertising instruments. It consists an administration motor and an SEO to make the site.
Magento Features
Site Management
• Ability to control multiple websites, as well as stores from one administration panel
• Administration permission system
• Another feature is for easy integration it provides a web services API
• Templates gives 100% customizable design
• It deals with different client groups
• Content management system for informational pages
• Integration with Google website optimizer
International Support
• Support for restricted, numerous monetary standards and also impose rates . It additionally includes support for WEEE/DEEE in EU.
• Another one is design list, this incorporates site enlistment, shipping goal delivers with capacity to indicate per shipping strategy and furthermore charging addresses with the capacity to determine per instalment technique.
Search Engine Optimization
• 100% search engine friendly
• Google site map
• Search engine friendly URL's and URL rewrites give full control of URL's
• Meta-information for products and also for categories
• Another important features are auto-generated site map for display on site and also auto-generated popular search terms page.
Analytics and Reporting
• Integrated with Google Analytics
• Admin dashboard for report overview
• Sales report as well as Tax report
• RSS feed for new orders
• Abandoned shopping cart report
• Another feature is best viewed products report
• Best purchased product report as well as low stock report
• Search term report
• Product reviews report
For any assistants regarding Magento features… We will help you…
Don't hesitate to reach us here: Contact Aspiration Hosting
Marketing Promotion and Tools
• Polls
• Newsletter management
• Landing page tool for campaigns
• Coupons that can be accessible to stores, client groups, products etc.
• Free shipping options
• Multi-Tier pricing for quantity discounts
• Bundled product options
• Another one is client group-specific pricing and group-specific tier pricing
• Recently viewed products and also compared Items
• New item promotional tool
• Up-sells in the shopping cart as well as cross-sells on product pages
Checkout, Payment and Shipping
• One-Page checkout
• Integrated for real-time shipping rates from:
− UPS, UPS XML, FedEx, USPS and DHL
• Configurable to authorize and charge on creation of invoices
• Integrated with amazon payments and also with multiple PayPal gateways
• It is integrated with Authorize.net and also with Google Checkout
• Saved credit card method for offline payments
• Accept checks/money orders as well as purchase orders
• Shopping cart with tax and shipping estimates
• Also consist option for account creation at beginning of checkout
•Gift messages will be received according to the order
• On-site order tracking from customer accounts
• Destination countries can be allowed per month
• Free shipping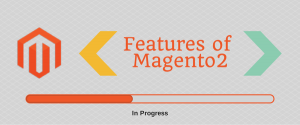 Order Management
• View, edit, create and also fulfill orders from admin panel
• Create one or multiple invoices, shipments as well as credit memos per order to allow for split fulfilment.
• Print invoices as well as packing slips
• Another Magento feature is that it helps to make new clients or else login as existing client. It also helps to view the shopping carts, compare products etc.
Customer Service
• Contact us form
• Feature-rich client accounts
• Order history with status updates as well as order tracking from account
• Password reset emails from front-end and admin panel
• It also deals with order and account update emails
• Customize order emails
• Create and edit orders from the admin panel