Today we're back with the Magneto Dashboard left side Menu's miscellaneous options. So, this article includes Reports section on the left sidebar of Magento Menu.
As we all know, Magento is a popular CMS with great options to maintain and manage an eCommerce store. Even though Magento is a dedicated eCommerce platform, we've seen some people complain about the loading speed. However, there is no doubt Magento is a heavier CMS than any other CMS out there on the market. Many people today are using extensions and themes for design purposes which make Magento even heavier. Sometimes bigger sites with thousands of images and graphics can be the reason for slower loading. So, it's very natural to have such complaints about speed.
As we mentioned a few times earlier, loading speed is interrelated with the sales and time customers spend on a specific website.  So, choosing a Magento web host can be very vital for the further success on sales. As a result, a dedicated cloud SSD Magento server is always desired for faster loading. However, we're providing great Magento plans including premium services like AspirationCDN, LiteMageCache, and SSD cloud storage with servers in four major locations around world. So, take a look at our Magento plans and enjoy the faster loading speed. Join us today for great promotional offers year round with 24×7 technical support at a very affordable price!

Mehedi Hossain Chy for Aspiration Hosting
Magento Menu – Reports Tab
As we know that Magento is a dedicated CMS for eCommerce business. So, it's very natural to have a structure focusing on sales and marketing. The report tab is all about Magento Marketing, reviews and different types of reports regarding products and statistics, etc.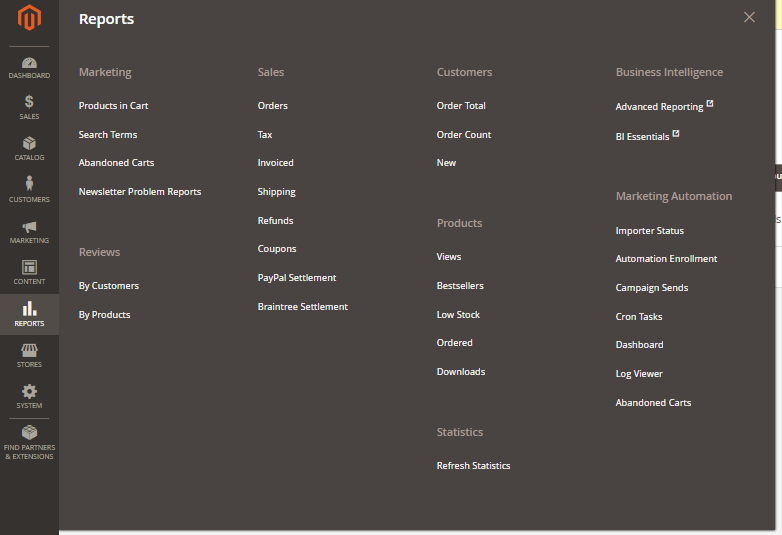 Reports – Marketing
What is seen is what is sold! So, there are no other options other than marketing. Especially when you have millions of competition out there.
By the way, the Magento Menu for marketing report has these following options:
1. Products in Cart: Simply it shows the number of products added to carts by visitors or customers.
2. Search Terms: One of the greatest tools for SEO purposes. From here we can learn about the phrase or most searched keywords by the customers. Your SEO guru better know how to use this data to generate more traffic towards the website.
3. Abounded Carts: Generally a report on a customer who left the online store without checking out. Hence is a great tool to collect data and send them notifications about their products later on.
4. Finally the Newsletter problem Reports.
Reports – Reviews
Above all, it's a report based on customers and products so, it's a great tool for SEO purposes. Because from reviews we can collect emails from our customers, which is helpful for list building. From the customer's point of view, it helps customers to make easier decisions from others physical experience with services and products.
Reports – Sales
Generally, the sales section is a great option in Magento Menu to have an overview of the site regarding sales and turn over. In a word, a statistics on the performance of the business.
1. Orders: Simply a report on current order status. For example, reports on invoices, refunds, discounts, shipping and canceled orders, etc.
2. Tax: In a word, Mange tax data automatically. Generally collects data regarding tax, rate and total tax amount by product.
3. Invoiced: Simply a report on the number of invoices. For example, orders, the total invoiced amount per order, paid and unpaid invoices, etc.
4. Shipping: All other details regarding shipping carrier, orders, and total shipping, etc.
5. Refunds: Similarly, all details regarding refunds. So, manage everything regarding refund total refund, type of refund both online and offline, etc.  
6. Coupons: Generally, the Magento Menu generate reports on coupon code, rules, use, subtotal, discounts, etc.
7. PayPal & Braintree settlement: From the definition reports on different payment methods. Simply a useful statement on transactions such as gross and total fee deducted for using the payment service.
Reports – Customers
Mostly used for list building. For example, from this Magento Menu, we can collect data about the new accounts created, order count and total, etc.
Reports – Products
Generally, a collection of reports on different products. Here following are the options:
1. Views: Simply a report on, how many times the product has been viewed in the specific time frame?
2. Best Sellers: The most selling of a product or the most popular product among the people.
3. Low Stock: Again a report on the stocks of each and every product.
4. Ordered: Generally, report on the products has been ordered earlier.
5. Downloads: Finally download any report by product, link or SKU using the tab.
Reports – Statistics
A simple tool to refresh the reports after being used for a specific time. It clears all statistics such as total invoices, refunds, best sellers, etc.
Reports – Business Intelligence
From the definition, it's a Magento premium service to understand your business performance. In a word, advanced analytics at a good price from Magento or Business Intelligence Essentials. Also, we can use the advanced reporting option which is manual and free options from Magento. Here read the documentation to create advance reports on your online store.
Reports – Marketing Automation
The report helps to create customized email communications, importing contacts, manage schedule campaigns, etc. Also, we can create custom rules and add logic for automating our campaigns
Finally, we're at the end of the topic, a special Magento Menu – Reports. For further details see the documentation or read our articles on different Magento options. Read about Content tab or Introduction to Magento Admin.