Magento (Mage) offers a high-level of customization and design control. This gives merchants online stores that fit their business.  Mage also provides good options like having more than one store in an install, reports and mobile commerce. It also provides very important and easy to use management tools such as marketing and speed tuning . The Mage platform also allows the creation of advanced content pages. It does this by including a What You See Is What You Get (WYSIWYG) editor. Most importantly, Mage is safer than WordPress third party store extensions.  If you have come to the conclusion that Mage is the very best for your business, then lets move on to download Magento.
First, go to magento.com. Then select your Magento edition:
 
About Magento Editions
The Enterprise Edition (EE): It is a paid through an annual license fee.  It insures higher performance. Has scale-ability for invasive and enormous businesses. It conjointly provides you access to a surplus of knowledgeable support. Also, as many extensions. And has options that you just will use to power your store. More often, MAGE offers you additional management.
The Community Edition (CE): You can download it for free. There is not a charge to use it.  It's open source, so it can be customized. It is aimed at developers worldwide.  And, also offers you access to community support.  Furthermore it has all basic Magento functions.  For example, adding product classes, user teams, coupons, etc. Additionally, developers are even able to use cool options such as multi stores, connected product, Upsells and Crosssells.  There are also thousands of extensions for sale.
---
Next Download Magento – Step by Step
1. Go to http://www.magentocommerce.com in your web browser.
2. Make sure the server meets all the requirements. Visit the dev docs to learn more.
3. Before downloading you will be asked to sign up.  This will include user name, password and other details.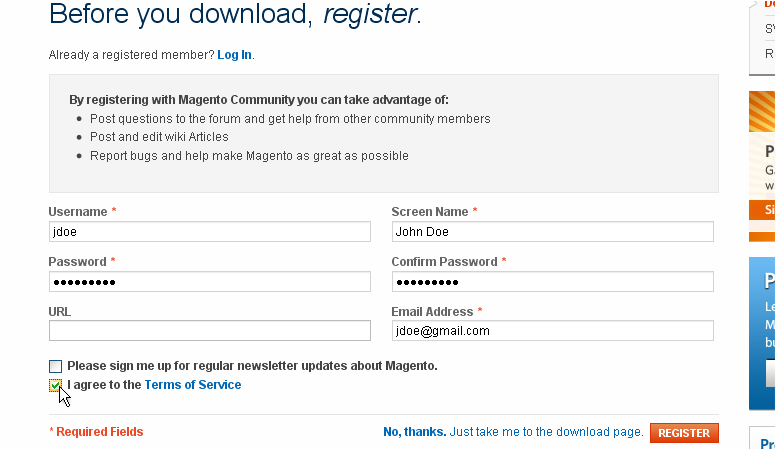 Download Magento – Visit to learn more about this.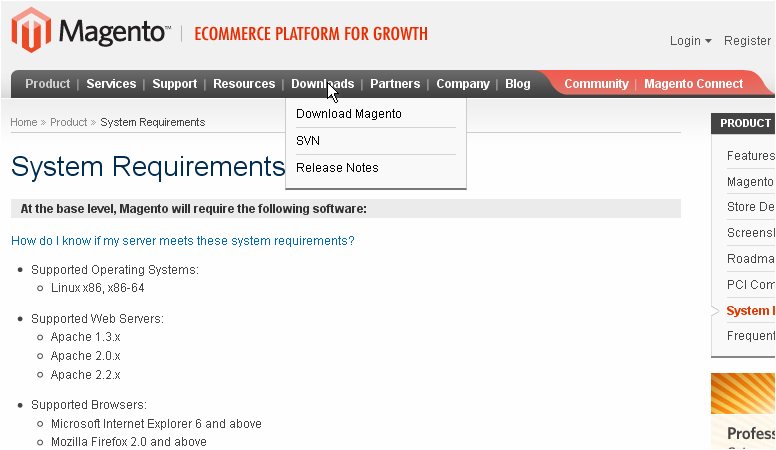 Choose your desired format such as .zip or tar.gz etc.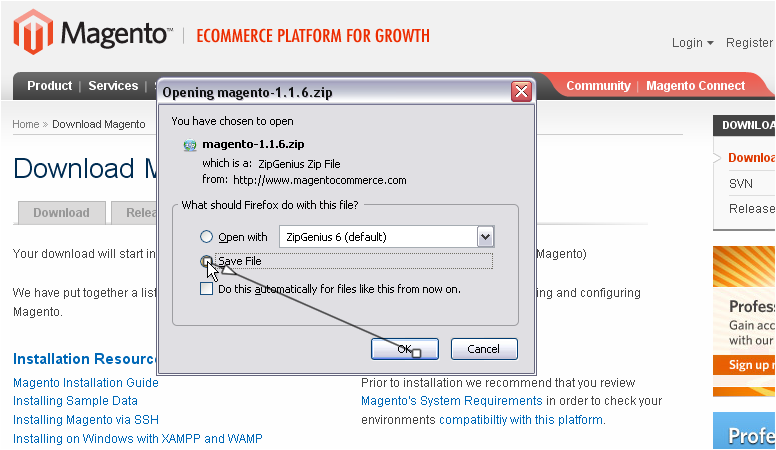 Click save to download.
Your are almost ready to install Magento. You will need a good hosting provider.  You can start with shared hosting and grow to a dedicated server.  Aspiration Cloud Hosting offers special plans starting under $10/month.  Even better, you don't need to do this install work, our sites come with one-click installers for Magento for free!
  Mehedi Hossain Chowdhury for www.aspirationhosting.com