Are you planning to set up an eCommerce store? Let's have a simple discussion about Magento vs WordPress. Initially, WordPress is just an open source blogging tool for websites. Later WordPress became most popular website development platform. Then most of the online business started to migrate to WordPress platform.  The content management and website development is an easy process in this platform. In WordPress, you can easily add new pages, new posts, images etc. But the major problem arises through plugins. WordPress is based on full of plugins. These plugins are vulnerable to malicious attack.
Later Magento came into existence. Magento overcomes most of the problems faced by WordPress. Then online sellers start to migrate to Magento. Now Magento is one of the best eCommerce platforms for online businesses. MagePlus by Aspiration Hosting is based on Magento. Through MagePlus you can set up your store in a single day.
Magento vs WordPress
1. Security
Security is the main issue faced by WordPress. Since the developers of plugins and themes for WordPress are different companies the security becomes the main issue. WordPress is the most popular content management system so hackers will target WordPress to destroy your data. On the other hand, Magento is highly robust and secure platform. Magento core includes all the features you need to sell your products. So chances from outsiders attacks are less.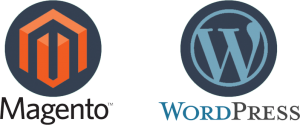 2. Update issues
Regular updates are necessary in the case of WordPress. The proper update will help with the smooth working of your site. Otherwise, there are chances for an occurrence of a break. You need not face such issues in case of Magento.
3. Function of your site
Before choosing an eCommerce platform you should clearly know about the functions of your website. If you are planning to sell less number of products you can go to WordPress. Otherwise, move onto Magento. Magento will help to expand your store easily. So you need not change your platform when your business starts to grow.
Aspiration Hosting launched a new Magento based online store called MagePlus Which will help you sell your products easily and you can set up your store within a day.