Online shopping has become a trend in today's world. Whereas customers need to spend a lot of time to search for the items that they need to buy. Thus it can be a barrier since thousands of items are present there. So its a life saver for the customer when a Magento wishlist is provided. As a result, they can add their favorite items for purchase.
If you're thinking to expand your business online. Definitely, Magento 2 has the all the tools to support your cause. Before we begin please take a look on our Magento 2 dedicated cloud SSD hosting plans to give your business with right boost and supports. We're providing 100% development support along with premium features like AspirationCDN, LiteMageCache, etc. absolutely free with current Magento Hosting plans. Yes! A starter basic plan will only cost USD 9.99 per month as minimum as you never imagine!

For Aspiration Hosting Tanzia Farin Chy  
Identically they can create some wishlists like business, party or more so that they can save their items that they want to purchase. Hence lots of time won't be consumed and customers can search their items easily. Hence, Magento wishlist extension is ideal for the customers. As a result of this article, we would like to provide you with Magento 2 wishlists extension so that customers can have a good experience for buyers on their websites.
1) Magento 2 Wishlists Extension by ITORIS INC ($99.00)
Customers can have a better plan for shopping online ITORIS INC built this Magento 2 wishlists extension. As a result, it provides some key functions to make the purchasing function easy.

Some developed features of Magento Wishlist Extensions developed by ITORIS INC are mentioned below:
You can create as many wishlists you want.
It will calculate the total price of each wishlist individually.
You can share wishlist to family, friends easily via email.
 It has options such as name each wishlist, add items, switch an item from this wishlist to the others and delete if required.
Although Magento 2 wishlists extension by ITORIS INC will cost you around $99 which is the highest price of the extension we are going to talk about in this article. On the other hand, when you will buy this module it will consist of a 4-month technical support. To extend it to 6 months or 1 year you will have to pay $59 and $99 respectively.
2) Magento 2 Wishlist Extension by BSS Commerce ($79.00)
Customers will find many products which will suit their needs. As a result, if they like it they can put the product on the wishlist to check it later on. Although default Magento will put all your favorite items in one wish list which can be a problem for the purchasers. As if they want to look for their favorite items, later on, they will find it very difficult as they are not arranged in order. Hence, customers will lose interest. As a result, they will stop their purchase right there.

Although Magento 2 wishlist extension won't let you feel like this or let the abandoned cart rate increase. As they will have more than 1 wishlists so they can add as many items as they want to depend on their mood and interest. Furthermore, if the customer wants to know the details of a product he or she can go to the related wishlist to sort quickly and conveniently.
As a result, Magento 2 Wishlists Extension by BSS Commerce is the ideal solution to this problem. As it allows the customers to make as many wishlists they want. So that they can add their items freely. Uniquely which makes the customers purchasing process easy
and consumes less time.
Some developed features of Magento Wishlist Extensions developed by BSS Commerce are mentioned below:
Can create as many favorite wishlists as they want.
Support Ajax popup when adding products to wishlists
It's easy to edit or delete wishlists.
Keep products in wishlists after they are added to cart.
Manage and organize many products in My Wish List conveniently.
For community edition, BSS Commerce costs around $79 which is a reasonable price in today's market. And by installing it you are getting a free 1-year supporting system.
3) Magento 2 Wishlists Extension by Makarovsoft ($79.00)

Some functions of Magento Wishlist Extensions developed by Makarovsoft are mentioned below:
Create multiple wishlists and be easy to set name, description and give comments.
Add multiple products to existing or new wishlists.
Easy to add configurable products into the wishlists.
Allow admin to view customers' wishlists in the admin area or backend.
Enables to send emails to store managers to review wishlists and create orders based on them.
To get the service of Magento 2 wishlists extension by Makarovsoft you will have to pay around $79. As a matter of fact, you will have a free installation and a free 6-month support. After all, you can get a lifetime discount of about 50% on extension updates.
4) Magento 2 Wishlists Extension by Store Webkul ($69.00)
Equally with the help of Magento 2 wishlists extension by Store Webkul you can store items that you love with some outstanding features. Therefore customers can set up an unlimited number of wishlists to put their items on each of it.

Some important functions Magento Wishlist Extension mentioned by Store Webkul are:
There you can create multiple wishlists.
Store products based on customers' interests.
Perform some actions such as moving, deleting, adding products and so on from wishlists to cart and vice versa.
Add products to wishlists with the support of popup.
Be able to share My Wishlists to friends through email.
Apply to various types of products in Magento 2.
Save products in wishlists even when customers add them to cart.
For the community edition of Store Webkul, you have to pay $69. Also for the enterprise edition, it will cost you around $138. Whereas customers also have to pay $13.80 for the installation. For 3 months you won't be needed to pay any additional cost.
5) Magento 2 Wishlists Extension by Magebuzz ($59.00)
In the first place, Magento 2 Wishlists Extension by Magebuzz is built for buyers to help their website have a better online shopping experience. As a result, can gain more loyal customers for their benefit.
Here are some major characteristics of Magento wishlist extension established by Magebuzz:
Add many wishlists as possible.
Allow purchasers to store favorite products for later purchases in the wishlist.
Add items to wishlists in the homepage easily via popup.
Contains actions such as deleting, adding, moving items conveniently.
Enable to share wishlists to social networks or email.
Easy to set name for wishlists.
Allow store admin to enable to see customers' wishlists.
Magento 2 Wishlists extension by Magebuzz will cost you $59.00 and requires $29.95 for installation service. Thus you will be provided with 3 months free supporting service. And for 6 months and 1-year support service, it will cost you $29 and $49 respectively.
6) Magento 2 Wishlists Extension by Magenest ($10.00)
The main purpose of Magento 2 Wishlists Extension by Magenest was to decrease the rate of the abandoned cart. By creating wishlists which will allow the customers to arrange their items in which they are interested easily.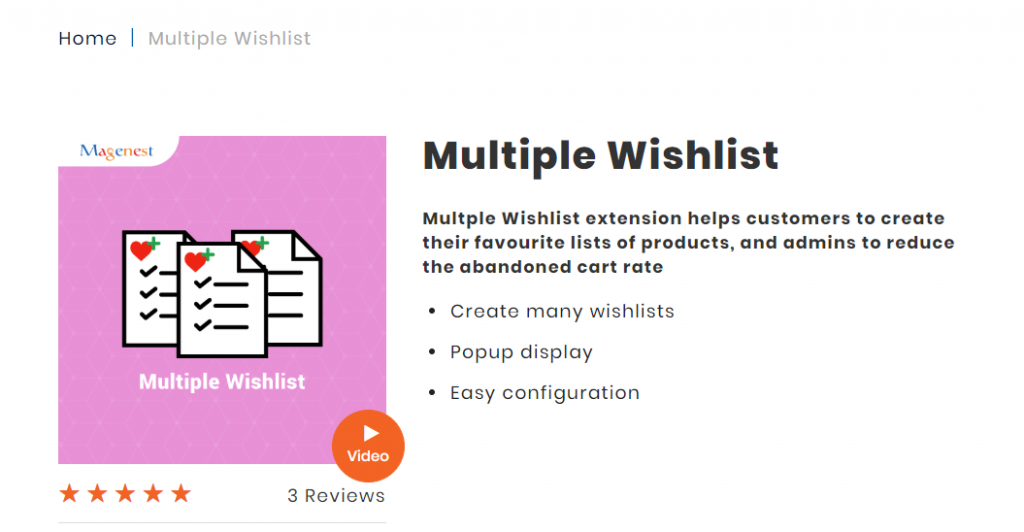 The following things are key features of Magento Wishlist Extension provided by Magenest:
Allow customers to add multiple wishlists they prefer.
It is easy to add more items to lists based on a popup.
Retain any products in the wishlists even when customers have added them to cart.
Help admin store is easy to configure from the backend.
For the community and enterprise edition of Magento 2 Wishlists Extension by Magenest the customers have to pay $10 and $99 respectively. In fact, for installation, you will have to pay $50. When they will purchase Magenest they will have a free 6-month support service.
Conclusion
In conclusion, not mentioned on the list of Magento 2 Wishlists Extensions provided in this article is based on functions, pricing and supporting policy. Altogether to make your purchasing online experience better we have made this list. So that you don't face problems regarding this topic.