Selecting the best eCommerce software can be always confusing. MagePlus is a fully hosted Magento based hosting solution which will help you to launch your online store in just one day. With MagePlus, you will get the features of Magento without limits at an affordable price. Let's look at 4 MagePlus vs PrestaShop differences.
MagePlus vs PrestaShop – 5 Best Differences to Know About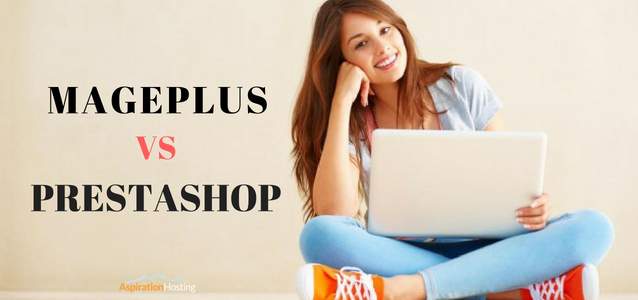 1. Hosting
If your store is running on poor servers, then your store will perform poorly. Your store will be very slow and the customer experience will be at stake.
Since MagePlus is running on the ultra-fast servers of Aspiration Hosting, you don't have to worry about the site speed of your online store. Also, all the servers of Aspiration Hosting are optimized for Magento, which will make sure that your MagePlus store will be super fast.
PrestaShop is a self-hosted solution, which means you have to find hosting provider to host your site. It can lead to lots of confusions. Also, if you are not a techy person, then you will find it difficult to configure your site and install PrestaShop. But MagePlus solve these problems. Our techs will install and configure your eCommerce site in just one day. Also, we will help you to configure the theme.
2. Support
An eCommerce platform having good support team will make your life much easier.MagePlus is providing 24/7/365 support. Just raise a ticket or contact us via our live chat. Our high qualified techs will solve your issues. But PrestaShop is not providing any such support.
3. Flexibility
MagePlus provides the most flexible eCommerce solution. You can customize your store as you like it. Compared to MagePlus, PrestaShop is much more rigid. MagePlus provides much more out of the box features than Prestashop. There are around 3000 extensions in the Magento store which will help you to extend the functionality of your store with MagePlus. With MagePlus, you can use all the themes of Magento. Magento provides more themes than PrestaShop. Therefore with MagePlus, it is possible to give the look and feel you desire for the store.
4. SEO
Magento provides the best SEO functionalities. Therefore, making an SEO friendly eCommerce store is becoming easy with MagePlus.
Therefore the best option to start your eCommerce website is MagePlus. Now you can start your MagePlus store with just $1.