According to Kissmetrics, If an e-commerce site is making $100,000 per day, a 1 second page delay could potentially cost you $2.5 million in lost sales every year. So it is very important to make sure that your Magento site is running fast as it can affect your sales, SEO rankings, abandonment rate, and the shoppers' overall user experience. So here are some of the ways by which you can speed up your Magento eCommerce site.
4 Ways To Speed Up Your Magento eCommerce Site
1. Install the latest version of Magento
New release of Magento includes performance improvements and other patches which affects performance. So upgrading to the latest version can significantly improve the speed of your site. Also, all of our plans are optimized for the latest versions of Magento.
2. Get better hosting
No matter whatever configurations you use, your site will be slow if you don't use quality hosting services. If you host on a shared server with Hostgator, Bluehost, or on any of the other mainstream hosting companies, then the first thing you need to do is switch to a hosting provider that specializes in Magento hosting like Aspiration hosting.
To see best results, you must choose cloud hosting. Our Cloud comes with the lightning fast SSD coupled with speedy 10 Gbps to ensure the best possible performance and disk I/O.
3. Content Delivery Network (CDN)
Implementing a Content Delivery Network (CDN) with Magento is the best way to instantly improve site speed. Hence, you can ensure the delivery of your assets from multiple locations around the world in a fast manner.
Aspiration CDN can improve the loading speed for your website across the whole world. Unlike CloudFlare which slows down visitors from Australia, South America, South Korea and Taiwan, your visitors will experience excellent loading speed with Aspiration CDN.
FREE Aspiration CDN is included for selected Cloud Web Hosting plans and our Dedicated Cloud Server so you don't have to spend your money to buy additional CDN.
4. Install Light Speed and Light Mage
LiteMage is the world's fastest Magento Full Page Cache for Magento. And we support LiteMage Cache across our web hosting and plans and managed cloud servers. Check out the stats below.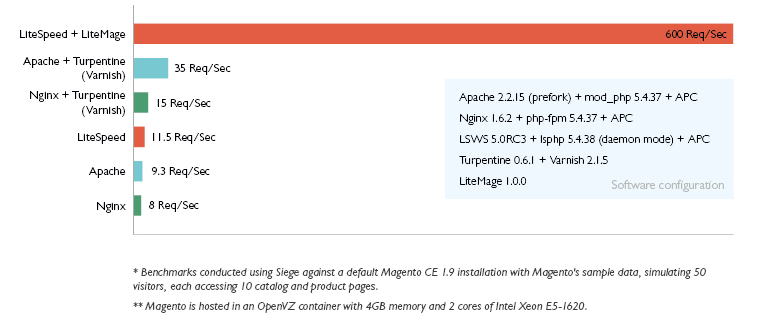 All of our hosting plans are optimized for Magento so you can assure a high speed Magento store. Get your hosting right now!