The success of your website purely depends on the traffic you are getting. Every website owner likes to get good traffic. But the main problem is they don't know how to deal with a sudden traffic hike. More visits will bring you better earnings, higher rankings, and more conversions. In this article, we discuss how the sudden spike in traffic will bring a negative impact on your site and also how you can deal with this issue.
Getting more traffic to a website is a great news to website owners. But your website will take too much time to load if your server gets heavy traffic. Hence, your old and new visitors experience long loading times or errors when they try to visit your website.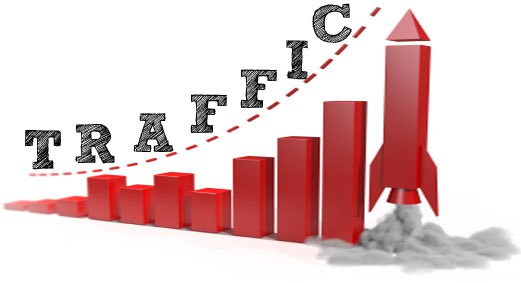 Most of the web hosts support unlimited traffic nearly in all their hosting plans. But some plans cannot handle too many visits simultaneously. In that case, heavy traffic will make your website load slowly. For example, if you are running a blog site and one of your blogs goes viral and you are getting a sudden traffic hike to that particular blog. In this case, if you are using a shared hosting plan you will get some delay in loading. To upgrade your plan is a good idea, but on the other side just imagine that you are receiving traffic to only that particular blog for a particular period in such case upgrading the plan will not be a good decision. Better plans tend to be more expensive, so before upgrading the plan you should ensure that your traffic upswing is for a long term.
2 Ways to Deal with Sudden Traffic Hike
Content Delivery Network (CDN)
Content Delivery Networks will help to store the copies of your website on data centers. This is called caching. So if someone tries to access a cached page, they will get a copy from one of the data centers instead of your main server. This will result in fast loading times. Thus CDN helps to handle unexpected traffic hike.
Aspiration hosting provides free Aspiration CDN along with its Cloud hosting Plus and Pro Plan. Our in-house Aspiration CDN relies on a global network of high-performance CDN PoPs with over 50+ cities across six continents for faster page loading times, higher conversion rates, and a higher Google ranking.
Flexible Web Hosting Plans
The easiest way to deal with a traffic spike is to upgrade your hosting plan. But this option is recommended only if you get the traffic over a long term. If you aren't sure about your traffic, some hosts will enable you to upgrade your plan for a short term. This is perfect for dealing with the traffic spike. Some hosts will allow you to add more memory to your plan or to double your processing power. Hence, you need to pay only for the added resources for the particular period.
Now let's conclude that preparing for sudden increases in traffic isn't as complicated as you might think. If you have taken the proper measures to handle the sudden hike in traffic, then, of course, traffic spike can be a boon to your website.