Speed has a big effect on bounce rate of websites. Since online shoppers are impatient, most of them will not wait for more than 5 seconds to load a web page. Same is the case for Magento websites. Therefore it is very important to optimize the speed of your Magento website. The best way to do this is by understanding what is LiteMage.
What is LiteMage?
An innovative technology by LiteSpeed Technologies. It allows you to store Magento pages into a cache for faster page load. Since it is the world's fastest Magento full page cache it can improve the speed and quality of a site by speeding up both static and dynamic content of a website.
In a study by LiteSpeed, it found that LiteMage is faster than Apache with Varnish, and even NGiNX with Varnish. In fact it is 3 times more efficient.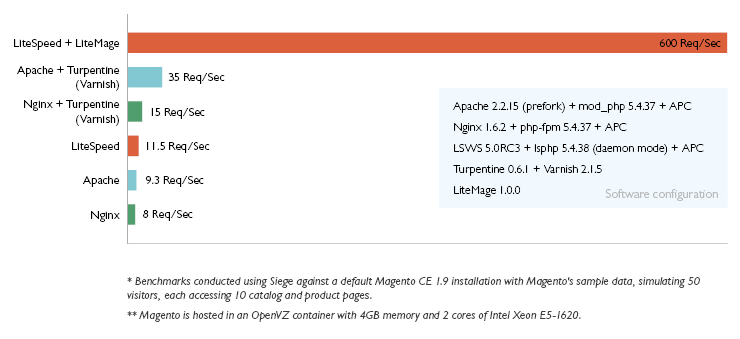 With LiteMage added to your Magento store, you can keep your customers' attention right from the first page load.
Features of LiteMage
Magento specific
Static and dynamic caching
Quick page loads
And native SSL support
Also anti DDoS protection
Low memory needs
Edge Side Include (ESI) engine for hole punching.
Retrieve multiple blocks in one request, minimizing the extra work of building pages with multiple blocks.
Supports Last Viewed Product, Product Comparison, Product Toolbar Options, Stock
Tracking and other features requiring communication with the Magento backend.
Supports layered movement, category filtering, view as, sort by and show per page functionality.
Supports multi store, multi currency, and multi user groups.
And finally built-in spider to update the cache.
LiteMage with Aspiration Hosting
All of our Cloud Web Hosting servers and Managed Dedicated Cloud Servers come with the latest LiteSpeed Web Server Enterprise 5.0, so you don't have to worry about site speed anymore.
Need help setting up LiteSpeed for your Web Site? Contact our always available tech support and ask for your free web development support. Aspiration Hosting – We inspire Confidence in Hosting!