Who doesn't want to be rich? Though hardly you'll find someone. On top of that earning, $5,000 a month without doing nothing is luscious. You might be thinking right now, how? Yes, in this article we'll teach you the Magic trick to earn by doing hardly anything. Basically, we'll utilize the internet to earn money for us. For earning money, we'll build a WordPress Affiliate e-commerce site and a blog to promote large companies like Amazon, eBay or Wallmart, etc. Being more specific we'll discuss the top WooCommerce affiliate plugin we can utilize to create our WordPress affiliate site to achieve the best result. In our case that is high commissions.
Todos
Types
Actually, people have their own different methods to monetize their site. But we can divide the purpose into two main categories:
Self-promoting – Basically, promoting own products to increase the sale. (Merchants)
Promoting Merchant's products –  Here individual creates their website and promotes Merchants like Amazon, eBay or Wallmart through blogs, or by directly importing their products into the own site. Generally, the merchant sites share their earnings with promoters in return of promotion.  Depending on the Merchant site, the promoter needs to link their account with the Merchant site. Each time the promoted product sold by the merchant the promoter earns a commission. (Affiliate partners) 
Regardless of the type of business  WooCommerce by Wordpress supports many third-party plugins to promote products.  And that's the power of WordPress truly open source platform. 
For the sake of simplicity, we're skipping the entire webpage development portion. If you're our pro or plus type client feel free to contact us for the development supports. As we're giving development and customer support absolutely free along with the WordPress Hosting plans. For the newbies, don't forget to claim the promotional joining offer. Now enjoy SSD WordPress cloud hosting just USD 9.99 per month price tag.
Top WooCommerce Affiliate plugin: Ultimate Affiliate Pro (Merchants)
In the first place, we'll share plugin for the merchants. Because we know that a large number of developers and merchants read our articles regularly.  If you own a medium or large e-commerce site the Ultimate Affiliate Pro is a total affiliate solution for the merchants.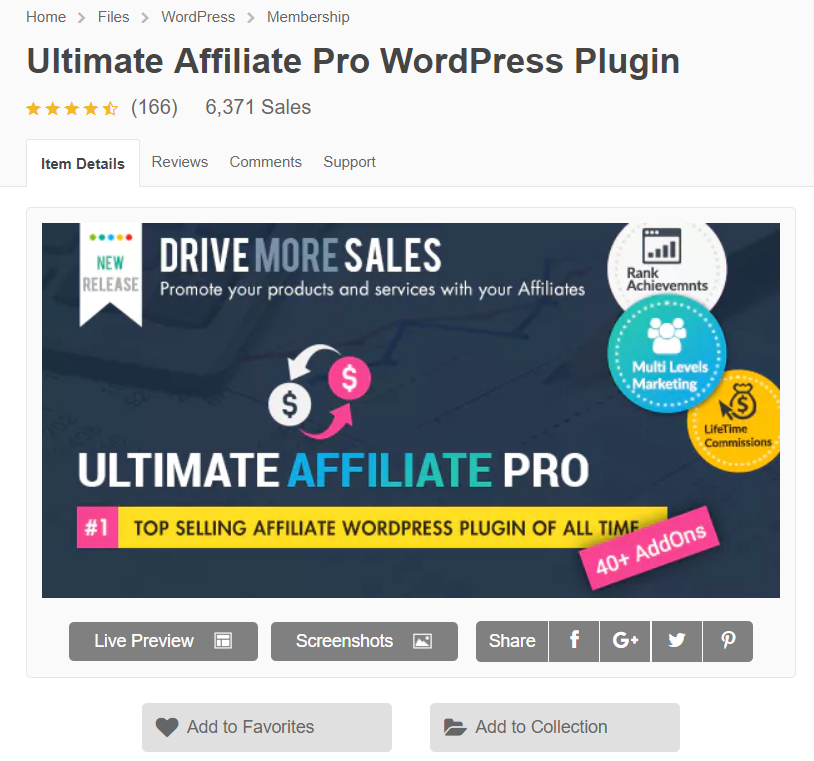 Ultimate Affiliate Pro Features:
Set custom commission level for each product.
Turns your Affiliate site into MLM – Multi-Level Marketing to enjoy more leads.
Set different commissions, reward, and bonuses. For example, lifetime commission, performance bonus, Fair Checkout reward and landing commission etc.
Different payout method, currency, and wallets.
Supports both Paypal & Stripe.
Create custom banners and share to promote them on social platforms.
Add referrals such as Signup or Recurring referrals.
Built-in top email marketing tools.
Create Affiliate coupon, custom slugs and links etc.
Integrate with BuddyPress and WooCommerce account page.
Other features such as Language support, notifications, reports, and Affiliate report including info.
Earning $5,000-$50,000 a month
As we've promised and as per our article heading in this section we'll introduce you with some premium WooCommerce Affiliate plugins that will earn wages for you. Even when in your relaxing, enjoying holidays or sleeping.
We can divide the Affiliate Partner Programs into two portions regarding the method of marketing:
1. Blog type – share relevant Affiliate links to share traffic with the Merchant site and earn wages. For example, it can be a review, general or any kind of blog relates the product itself. Each time a reader clicks the link and purchase the product from the merchant site the Affiliate earns a commission.
2. Direct Importing products and showcasing –  In this method, the affiliate partner imports selected products (product with affiliate links) into their own site. Generally, WordPress users showcase the products using  WooCommerce. In such a case, the Affiliate Merchant site and partners are connected through their domain. Either in some case, partners site redirects the checkout process into the Merchant site and the complete the purchase in Merchant site. For example, Amazon. Similar to the blog sites with each purchase from the Merchant site partner earns a commission.
Top WooCommerce Affiliate plugin: eBay Aliexpress WooImporter(Affiliate Partners)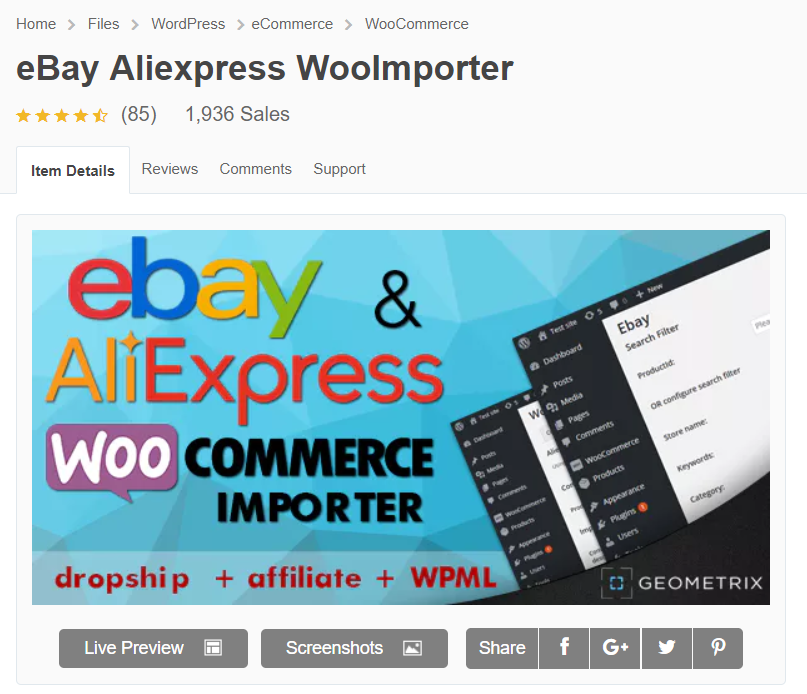 eBay Aliexpress WooImporter Features:
Search any product with keywords. Including, product ID, the number of orders, store name, category etc.
Support top e-commerce marketplace. Both Aliexpress and eBay.
Various search options, fields and results.
Integrates Aliexpress or eBay product page directly into Woocommerce Oder's page.
Set different price rules for each product. For example, discounted price including original price.
Integrate your site using the API key.  Both with the Aliexpress and eBay.
Automate the import process. For example, limits importing images, bulk import, create categories automatically etc.
Automatically converts currency and setup product status. For example, out-of-stock.
Extend the WooImporter plugin using add-ons for other Affiliate programs such as Amazon.
Top WooCommerce Affiliate plugin: Amazon WooImporter(Affiliate Partners)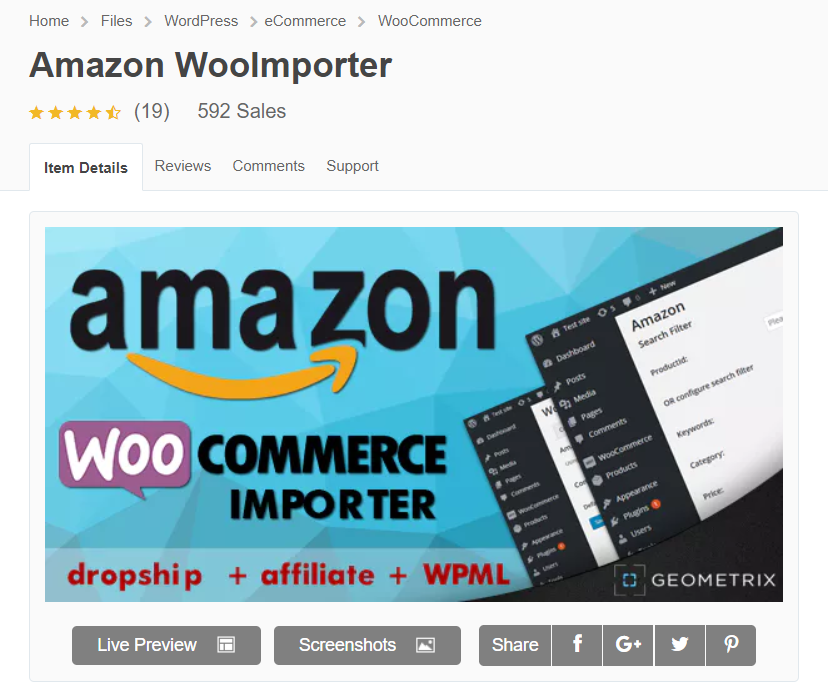 Likewise eBay Aliexpress WooImporter the Amazon WooImporter has almost the same features. The only difference is the Merchant site. For example, everything is similar such as the search pattern, integration and price rules etc.  Or we can say similar but not the same.
Both the plugins save you valuable time. As an Affiliate Marketer, I can say, maybe hundreds and thousands of hours. A few years back it took up to six months to set up an affiliate site and maybe a year or two for earning. However, such a WooCommerce affiliate plugin like WooImporter makes the WordPress the best CMS around the world. Regardless of any purpose or Criteria.
For both of the Woocommerce affiliate plugins, there are properly written guideline is available in Envato market. Including very good customer review on support and ability of the tool.