Here we'll continue the topic, install Magento on Mac – Part 03. So, without wasting any further time moving straight to the point the next step – Web configuration.
If you're getting frustrated by reading such long articles to install Mage 2 on your Mac and thinking of hiring a development company. In such case, we suggest to try us – Aspiration Hosting. Simply buying our Mage cloud  hosting plan helps you out through any development issue. And yes! absolutely free of any cost. 

Mehedi Hossain Chowdhury for Aspiration Hosting
Magento on Mac using Mamp – Web configuration
On the same note from Part 02, click next to finalize DB settings.
Here we don't need to do anything only in case we want to customize our installation.
Simply take the following image as a model: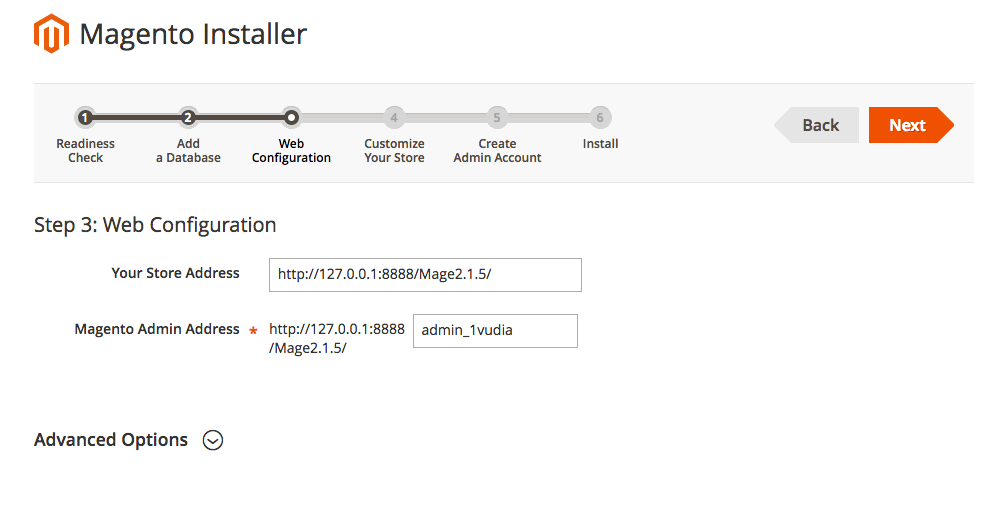 Magento on Mac using Mamp – Customize Store
Here we'll customize our store front in this following step. Now keeping apart our personal Time Zone, we don't need to change any further settings in this step. So, change the time zone and click next to move into the next step.
Simply take the following image as a demo: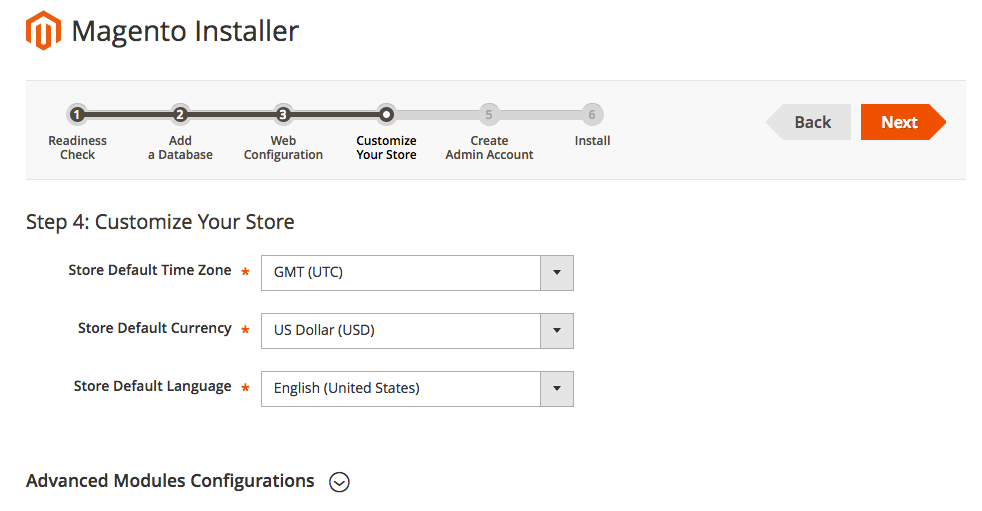 Magento on Mac using Mamp – Admin Account
Simply enter a suitable username for example: admin. Next enter a valid email address. Further a good solid password for login into the newly created admin account.
Here Note:  Keep this username & password for further login in the Mage Backend.
Following image is example of the same: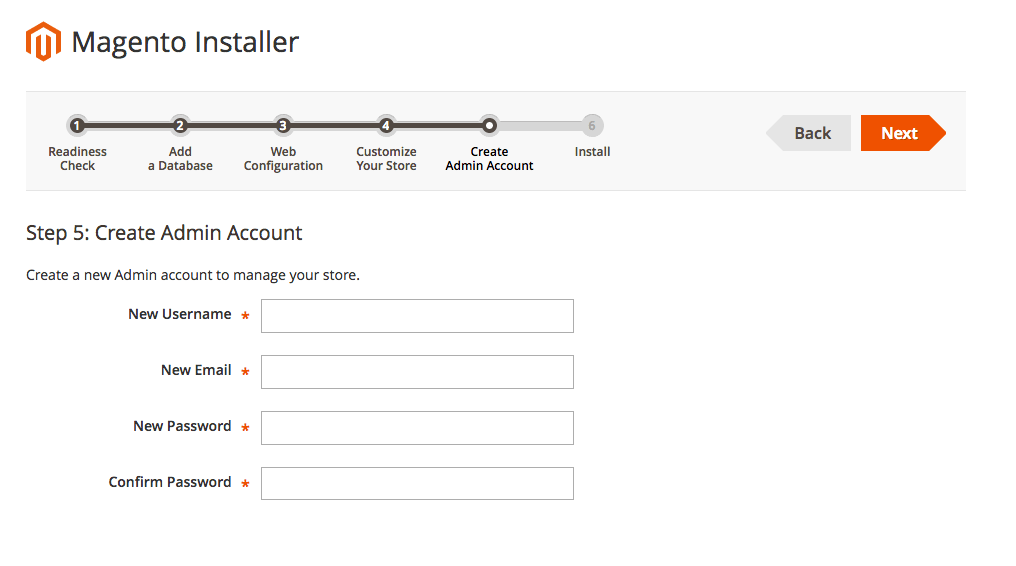 Magento on Mac using Mamp – Final step
Finally click on the button to begin installation. Now Mage will begin the installation. Here you can also see the process by clicking on to button.
Further see the following image: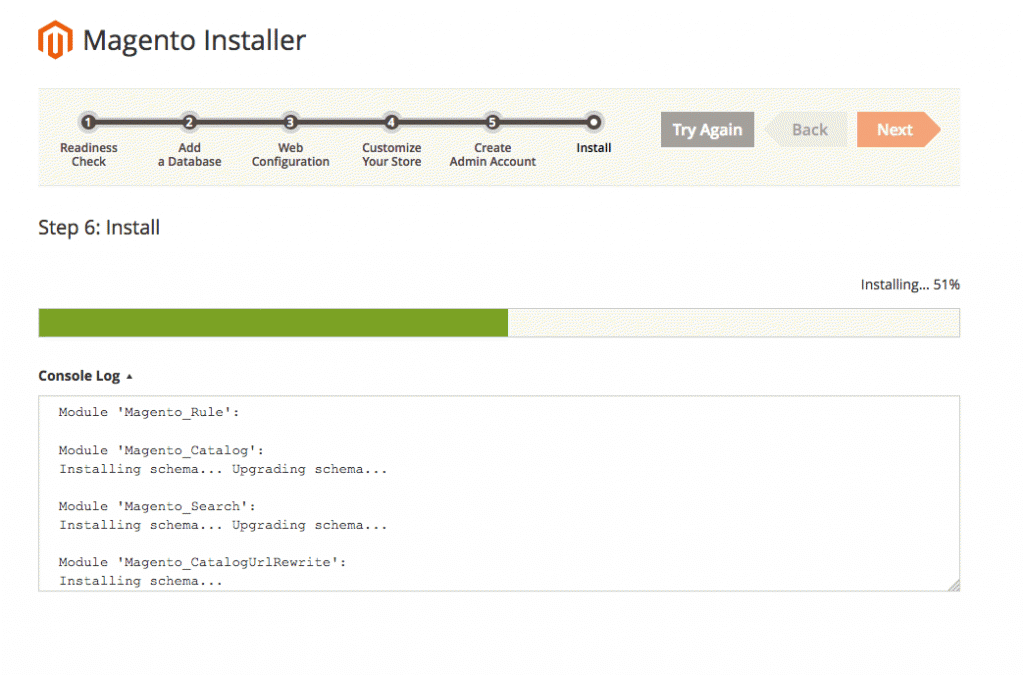 Next Mage will show a success screen with all further account details as similar as the following image. And congratulation you've installed Magento 2.0 in your Mac using Mamp Server (Local Server). So, use the button to visit the admin login site.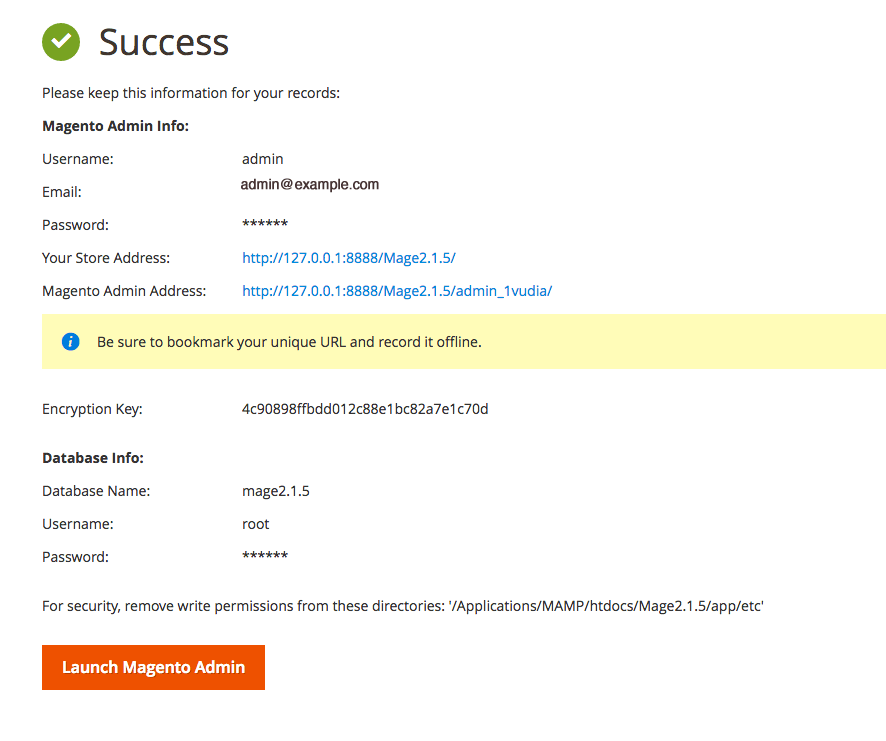 Further use the same account credentials created in step – Admin Account to login in your Magento 2.0 store. To visit the frontend of your store use the following link:
http://127.0.0.1:8888/Mage2.1.5/