Magento fares pretty high on the popularity board. The ease of getting a store from setup is appealing. Most notable of the Magento features is the ability to design a truly inspiring store by simply changing the theme and adding extensions. However business owners do dread the design and development stage. There are so many decisions to make and you are often left wondering if the choices are right. Another worrisome thing for Mage owners is finding the right host. Magento requires a lot of juice to run smoothly. Choosing the wrong hosting plan can damage your profits. Introducing MagePlus Online, Aspiration Hosting's brainchild cloud plan designed to make life easier for eCommerce owners. Let's learn more about this powerful plan.
Why Magento?
When we decided to partner with Magento for our new plan, many people asked why Magento. There are plenty of eCommerce programs with a healthy following. The biggest are Shopify, BigCommerce, WooCommerce and of course Magento. So why choose to design our plan around Magento.
The answer is simple!
Magento is a powerful and professional eCommerce program. Even Adobe thinks so, as they just bought the program for $1.68 billion. But to put your mind at ease, let's compare some facts.
Shopify
One of the biggest competitors to Magento is Shopify. It is a great and easy program to use and the store layout is user friendly. It also comes with hosting capabilities. However it isn't very cost effective. First of you have to pay for using the software every year. Then there are the transaction fees for every order unless you use Shopify Payments which is not readily available everywhere. Another major disadvantage we feel is the program is close source. Which means you can't actually change any aspect of the software to suit your needs. You have to develop your store within the confines of Shopify's specs. This limits you into creating a branded store.
BigCommerce
Another big industry name is Big Commerce which also offers their program with hosting. Good news is there are no sales transaction fees. But you can still end up paying more. BigCommerce pricing is set on the number of orders you receive. So the minute you start selling above your plan, you are instantly upgraded. We see this as a huge disadvantage because businesses have high and low points of sales. Just because you sold more products in a particular month, you shouldn't be penalized for that. And besides Big Commerce is also close source, thus curbing your creativity.
WooCommerce
Technically WooCommerce isn't a dedicated eCommerce software. It is a WordPress plugin that gives you the ability to setup a store. Which means you need to install WordPress before you can use it. We personally love WooCommerce especially since it is open source. But feel it is geared more towards the occassional online seller rather than a serious eCommerce owner. Another serious issue is probably security. Even though WooCommerce is open source, there aren't many updates to weed out the bugs, leaving your store open to hackers.
Now about Magento
Magento is open source, out of the box store. Is flexible and offers inifite ways to customize using themes and extensions. A whole plethora of developers are always tinkering around on the Mage code. The new Magento 2 has added features that were recommendations from users and developers on the Magento forum. However you do get no hosting and if not optimized properly, can be slow. Another major complain of Magento new users is how difficult it is to setup and use.
And that is exactly why we are introducing MagePlus Online.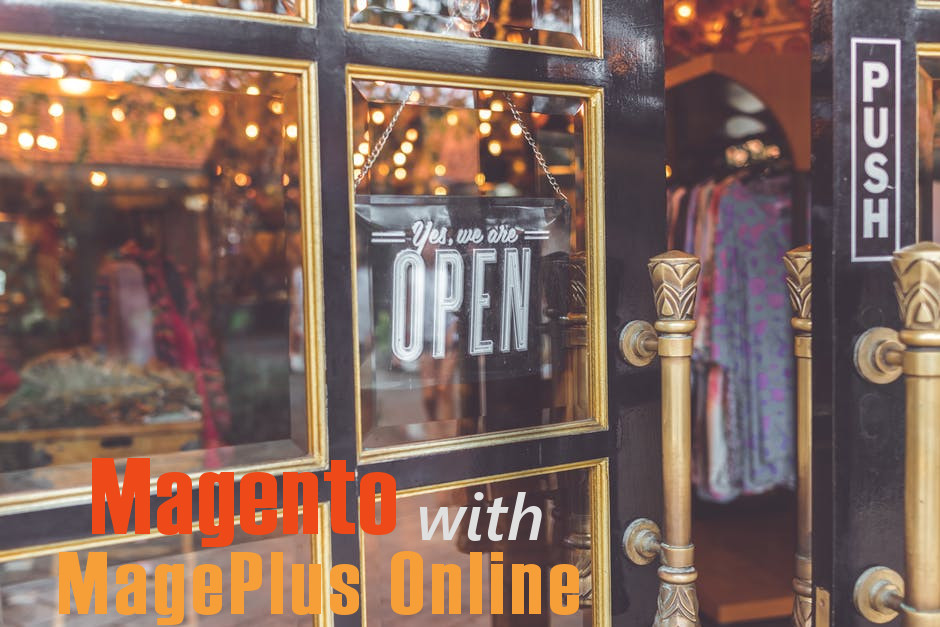 Introducing MagePlus Online Features:
3 Affordable plans to suit your budget.
Cloud Hosting because we firmly believe cloud is the way to go. You get the same flexibility with cloud as with Magento.
SSD drives as these are 20 times faster than other drives, and thus help in store speed.
Enough RAM to keep your program working efficiently.
Diverse locations so that you choose the server where your customers mostly reside. Hence boosting your store speed. We offer locations in California, London, Singapore and Sydney.
Easy to upgrade the plan when and if you wish it. No compulsion to change to a higher level plan just because your making money from your store.
Unlimited bandwidth
Only limited by your storage space.
FTP access
99% up time guarantee with Service Level Agreement.
And especially important, No Transaction Fees ever.
Fully Managed Part:
Magento 2 program installation done by our experts.
Store setup in 1 day.
Chosen theme installation undertaken by us.
Installation of SSL certificates included in plan.
Assistance in configuring the store.
Unlimited Products and orders
Daily backup of your store in 3 different ways.
Regular virus and malware scanning.
Introducing MagePlus Online Exceptional Services:
You get to keep your own Magento Merchant account. The benefit of this is, if you ever shift from us, you can take your whole store with you, without any problems. This feature isn't available for Shopify or Big Commerce stores as the program comes with their hosting facility.
LiteMage Cache included in the plan. This alone is 3 times faster than any other past cache combination.
Magento Experts on hand to advise.
Help on how to optimize store for efficiency and speed.
Regular feature updates and enhancements.
Program updates done by us.
Aspiration Hosting's very own Content Delivery Network with 50 plus points of relay to help speed up page loads.
24 x 7 unprecedented customer support by Mage experts
In conclusion Magento with MagePlus Online is a killer cloud hosting plan. Talk to us and let's discover more things about this plan.