This article is the second part of the Magento 2x Dashboard Tutorial – System Menu.  Here in this article, we'll discuss the options under the System Menu.  Magento file and folder permissions, tools, other settings, and Amazon log, etc.
By understanding the Magento Menu we can get great results in terms of sales and track them more efficiently. Though some of the options that need better understanding or development expertise, please keep a backup before making changes. If you're about to hire a developer for your growing site,  we can say our hosting is providing 24/7 web development and customer support even with the basic hosting plan.  So, you can save some money, enjoy daily backup and other great features with our Magento SSD hosting plans.   

Tanzia Farin Chy for Aspiration Hosting
Tools:
Using the tools section, we can perform routine index and manage the cache operations. Further, we can also back up the system. Moreover, by using the tools we can also help our developer team to troubleshoot and resolve issues.
Magento file and folder permissions:
However, Magento has a set of roles and permission and using the option we can edit a specific set of role and permission to a specific admin.  As we ended the Magento setup if you remember we received set credentials including URL, username, and password, etc. Because Magento considers that account as Admin and gives all Magento file and folder permissions to the account. But in some case, we don't want to give the same permissions to our blog editor due to the security of the site. Then, here the Magento file and folder permissions come into play.
By implementing different Magento and permissions we can easily restrict the user at a different level.  For an example,  we can set up the blogger or editor permissions and can restrict the access to the other information such as sales report, etc.
If we're going to use multiple sites, which is very possible in Magento 2x.  In such a case, we can also restrict admin permissions into multiple or single site with a specific role. For example, you have two Magento stores one is selling shoes and another selling wearing.  In this particular instance, by using the Magento file and folder permissions tool we can set restrict both Shoe store Admins and Wearing store admin to watch or track each other.
Moreover, if you're an admin of the shoe store you're simply unable to access any option and even the site dashboard of the wearing site.  Even any of the specific section can be displayed as inactive for the admin of the other site.  In a word, by using Magento Magento file and folder permissions we can use multiple sites in a single installation without caring about the security. The system will only show the permitted data and websites to nominated admins.
Other Settings:
By using this option we can Manage the notifications in your inbox. Also, we can create custom variables, and generate a new encryption key.
Amazon Logs:
As we're discussing Magento 2x and our intention is very clear we want to set an online store. Logs provide access to Client and IPN logs by enabling in the Developer Options section of the Amazon Pay configuration.
In the first place, the Amazon Pay extension gathers and delivers readable and downloadable logs. Basically by tracking the Client and IPN tracked access and actions. These Logs generate only you have enabled the logging feature in Amazon Pay store configuration. For further, see   Amazon Pay configurations under the Developer Options section.
The Amazon Pay extension logs the following data:
Client Logs are all API calls and responses.
INP Logs are all Instant Payment Notifications from the Amazon.
Go through the followings steps to display and download Amazon Logs:
1. On the right sidebar of the Admin Panel or Dashboard, choose Stores. Under the Settings tab, select the Configuration.
2. Click on the Advanced section to expand. Now navigate and find the Developer Options and expand the section.
3. In case the log is already generated by the system. Select a link to download to read Client and IPN Logs.
OR
If the logs are not available or not generated by the system itself/, In that case, a message should display: "No logs are currently available."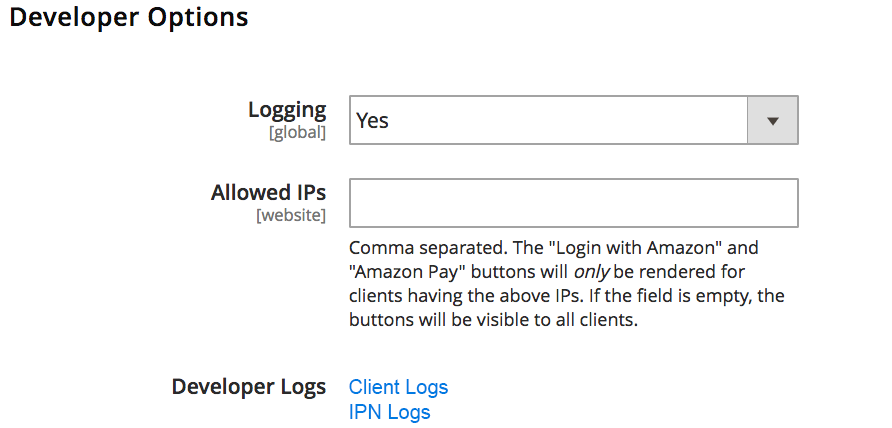 In conclusion, we can say Magento Menu has some great options to manipulate our store to a great extent for greater sales and usability.  Thanks for being with Aspiration Hosting.
Go back to the previous part: Magento 2x Dashboard Tutorial – System Menu – Part 1