In particular, our hosting offers three different affordable web hosting package according to your Mage eCommerce store needs. Moreover the Mage cloud hosting are fully Mage optimized. And we're also ensuring 24×7 tech & web development support all around the year. See our Mage cloud hosting packages here.  
So, hope you already got an email from the Hosting Tech team. However the email will somehow look like the following image attachment: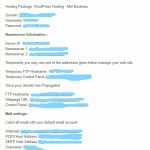 Steps to Install Mage:
If you're already a honorable client of Aspiration Hosting, two special treatments are waiting on your cards:
1. First you can simply knock our Tech team to install Mage for you and wait. In next 3 business day they will be liable to complete the task for you. And yes absolutely free!!! To learn, How to contact with our Tech team? Please read the article.  
or 
2. On other hand, if you've the basics of Magento using cPanel you can do it yourself. 
Here is the few simple steps to install Magento using cPanel:
Simply go to the previous email you received earlier after purchasing hosting. Here we'll surely find a link to cPanel. For example: https://www.domain_name.com:2083

Now use your UserName & Password to log in.
Next we can see a cPanel Dashboard in front of us.
Just look for the Softaculous Application Installer or  Installatron Application Installer and easily deploy or install Mage using cPanel. Please read our regular tutorials to become a Mage expert yourself.
Here Note: There might be several different ways to install Mage using cPanel. But that totally depends on our clients expertise. On the other hand, our Tech experts are very keen to help you in different issues related to Mage. Over all of these facts, we're providing one of the best Mage optimized affordable web hosting package around the world.
Tanzia Farin Chy – Aspiration Hosting Team

However the non associated users can also read our regular updates to learn more about Mage CMS.
Now reading Part 02 | Part 01