Technically, we can say that WordPress is a Blog and Joomla is a Content Management System. Both platforms have it's own merits and features. Let's check today the features of both WordPress and Joomla. Hope this article "WordPress vs Joomla" will help you to take a good decision about your business according to your needs. 
WordPress vs Joomla
WordPress
This is an open source platform. A community of all-star developers actively maintains WP. Also, almost all top hosting providers help you to easily get a WP site up and running. WordPress is made for blogging, but all type of extensions and plugins allows you to convert it into whatever you want. The major advantages of WP are,
WordPress is the easiest CMS to use, especially for non-developers. 
WordPress comes with a lot of plugins and themes. So you can easily extend your site with a variety of different features.
Since WP is a very popular platform it is easy to find help from a third-party ecosystem of blogs, Facebook groups, and developers.
Development works can be done at a cheap rate. 
Joomla
Joomla comes with its own power and strength. A Content Mangement System is a software application that creates or manage all digital contents. Hence, Joomla is the only content management system that is actually a CMS. Joomla is not suitable for bloggers and also for beginners. basics The major advantages of Joomla are,
Joomla comes with a more advanced system for user access controls and user management out of the box. 
Allow different content types
Joomla allows you more flexibility for displaying non-standard content types. 
Joomla allows you to use different templates for different contents. But WordPress allows you only to use a single WordPress theme. 
Joomla comes with inbuilt multilingual support, whereas for WordPress you have to use a third party plugin for this.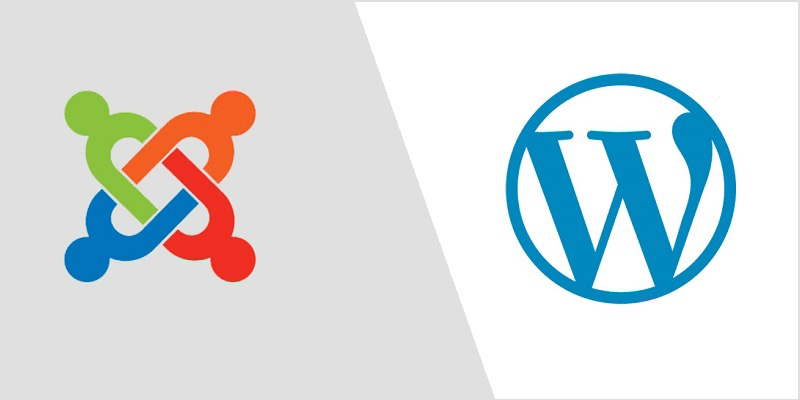 However, if you are a beginner or you need only a blogging site you can go with WordPress. WordPress does not require any developer to develop. On the other hand, Joomla is ideal for corporate sites, non-profits, and member-based organizations, as well as larger institutions, etc.
Reach us to know more about it. We are always happy to help you.