So, here we will continue with Install Magento Sample Data.
Step 3: Install Magento Sample Data – Import Sample Data
If you're using Aspiration Hosting, just go to your cPanel and login. After logging in navigate to cPanel -> phpMyAdmin. By the way different hosting might have some other DB management software.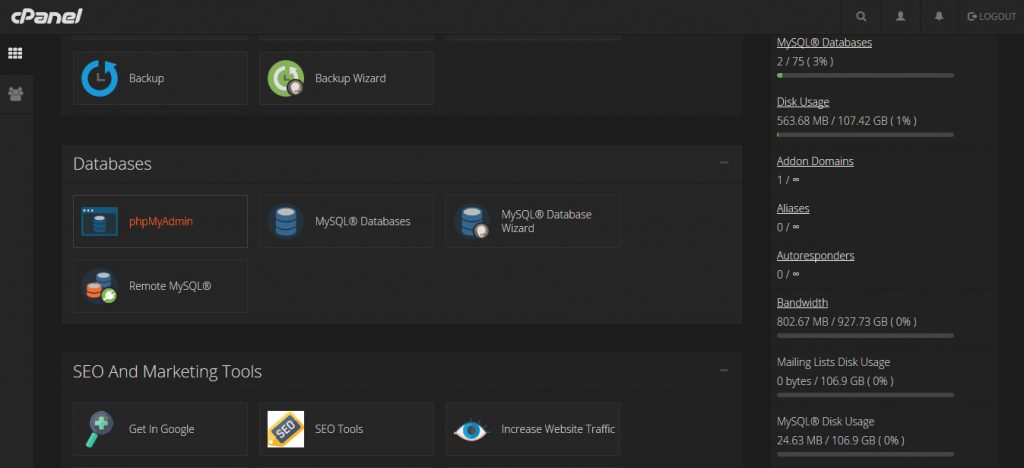 By clicking on phpMyAdmin a screen will pop up instantly. Here you can see the newly created Database on the left of screen.

Now to install Magento Sample Data, let's us begin with importing sample. By clicking import, we can easily import SQL files from Mage sample data. Then complete importing the SQL data in to newly created DB.

Step 4: Install Magento Sample Data – Magento Installation
Hence it will install Magento Sample Data inside the MySql DB. Now we are ready to run the Mage installation. Here you're requested to follow our article about the easy Mage installation.
Note: Specifically, use the same database name, user name and password for Mage installation. Whether you're using app or manual installation.
But you can also use our Softaculous App installers to do the same. Specifically, you can use our Mage OneClickInstaller to install Mage easily in a few steps. These tools are absolutely free with our hosting plans with 24×7 customer support. Finally, the plans begin just for $9.99 per month. Enjoy up to 31% discount with our Halloween Promotion!

Tanzia Farin for Aspiration Hosting.
Step 5: Final step – Mage Content File Upload
As we're done with Mage installation. Next, we will upload the media contents from the sample data folder. Next the media files should be uploaded in the same ROOT of Mage installation. Hence navigating the sample data folder, we can easily find contents under the "media" folder. Now we will upload the entire media folder using FTP client such as "FileZilla". 
As we discuss earlier, "How to make FTP connections" in our few articles. Here we would like to request you to follow "Making ftp connections" section under "How to install a magento theme? – Manually". 
 Currently Viewing Part 2 | Go Back to Part 1